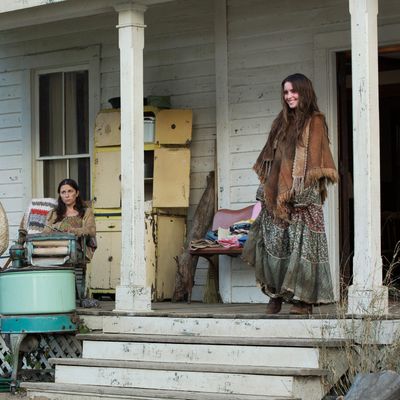 Photo: Michael Yarish/AMC
Harbingers of the future — and Don's growing obsolescence — have been popping up all through this season of Mad Men. Perhaps most notable was this episode's hulking IBM computer being wheeled into the office that was formerly occupied by a pen-and-ink-bearing art department. As the denizens of Sterling Cooper & Partners contended with technological change, hierarchical shifts in the office, and even a commune-bound daughter, there were some uncomfortable results.
Roger Sterling is no stranger to free love, as we saw in the season premiere, but in his three-piece suit he's an outsider while visiting his daughter Margaret (newly christened Marigold) on an upstate commune. Only a few episodes ago, Margaret was a proper young mother in a pillbox hat; now she's gone full-on Martha Marcy May Marlene. Along with his ex-wife, Mona (in her fur coat and gaudy gold jewelry), Roger couldn't look more old-guard next to Marigold in her fringed leather and tiered, homespun dresses. When Roger attempts to extract Marigold from her cultlike environment and the two muddy themselves during the fight, Marigold's already-dingy oversize white sweater — borrowed from her free-love buddy and now completely soiled — serves to emphasize her loss of innocence.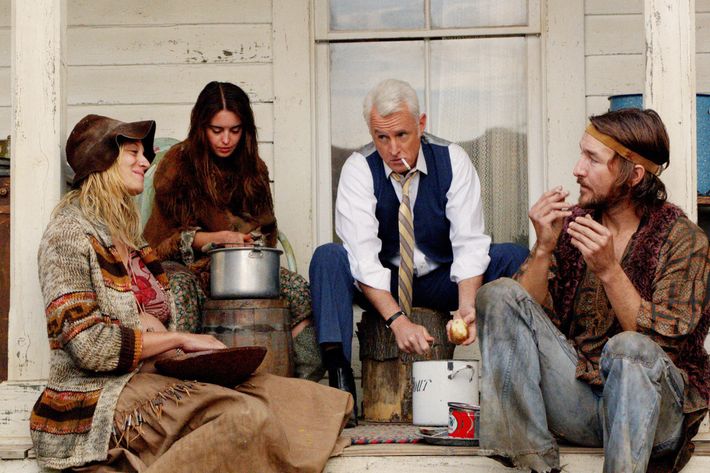 Also in this episode, Peggy settles uncomfortably into her role as Don's boss on the Burger Chef account. Peggy's previously dressed a bit too youthfully for her role, but this episode she makes a shift from an unremarkable checked tie-neck dress to an authoritative navy shift with a line of buttons down the middle. Unfortunately, looking put together doesn't mean she can keep Don from drunkenly embarrassing himself at the office. Joan is still dressing ever so modestly, in a hot-pink pussy-bow dress and, later, a green shirtdress — only the bright colors make her stand out from the gray-suited men she works with.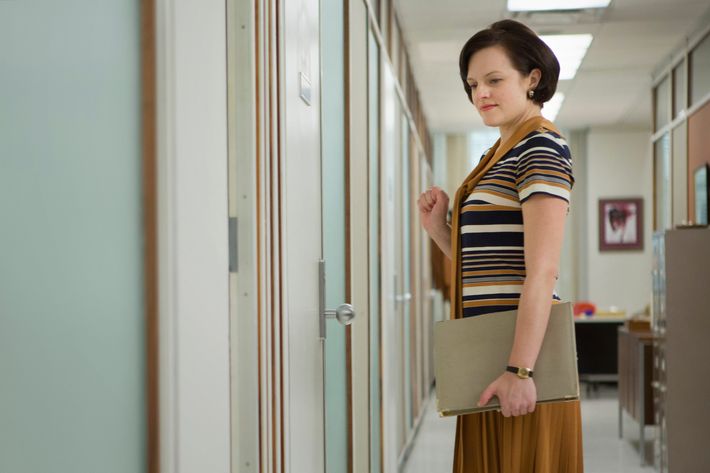 Megan and Betty were absent from last night's episode, so it's up to Bonnie, in her white crocheted capelet, worn over a long floral dress, to model the most on-trend look of the night. Bonnie is serving as an interesting counterpoint to Megan this season, with a California-casual aesthetic that feels fresh and authentic, as opposed to Megan's sometimes-put-on West Coast persona. It will be interesting to see if their paths ever cross.