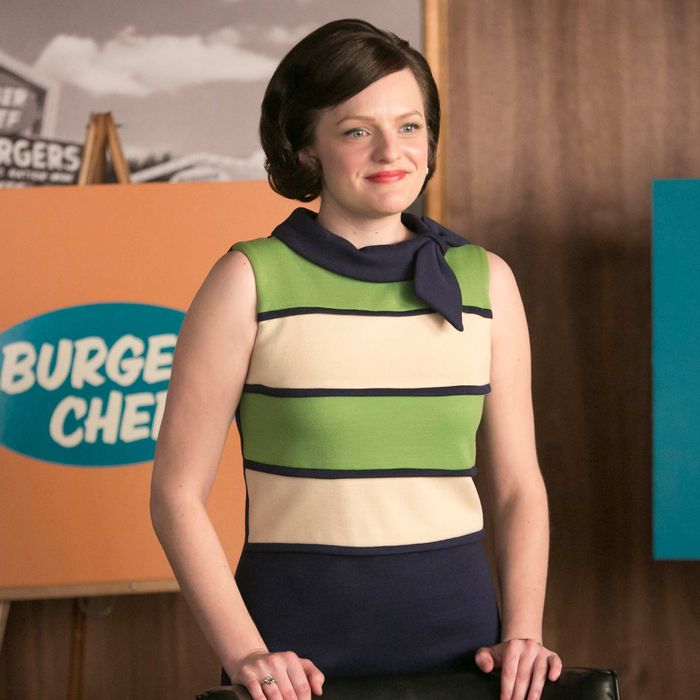 Photo: Jaimie Trueblood/AMC
All those doomsday predictions — a plane crash, Megan's death — didn't come true on the mid-season finale of Mad Men. With the whole cast of characters transfixed by the moon landing, the closest thing to a tragedy was Bert Cooper's death, which further underscored the shift in power from the old-boy network of Bert's salad days to the Peggys and Joans of the world.
Peggy literally replaced Don — with his blessing — becoming the adman who makes the creative pitch to clients, and in her sharp dress with blue, green, and white stripes — complete with a tie-neck, which has become somewhat of a signature for her, evoking the men's ties — she wins the account. Joan has officially become the Man in the Gray Flannel Suit, sans gray flannel suit, of course. In one clever shot, we see her in her a bright-red floral dress, holding her own among the partners even as she refuses to blend in.

Betty is up to her usual preppy tricks in a series of white printed sundresses. But a mod makeover seems to have taken hold of Sally, who, mid-episode, trades in her play clothes (plaid camp shirt, khaki shorts, red maillot) for a sophisticated lace-up purple blouse and miniskirt — even if her attempt at telescope-based seduction isn't quite so sophisticated.