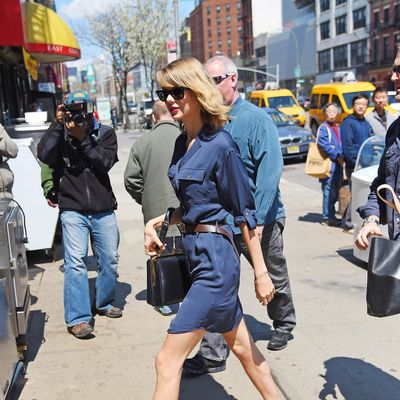 Photo: Josiah Kamau/BuzzFoto
Flaxen human swan Taylor Swift selects her footwear for its transformative properties. Like the women of literature and myth before her (Dorothy, Cinderella, the sad dancing soul from the Red Shoes), Swift uses her heels to change her being:
I really like an oxford high heel for kind of looking more like either a student or like you're going to work. I don't know, there's something [that gives me some normality]. That's what I kind of like to channel when I'm wearing them.
Taylor Swift: just a wide-eyed pupil in the big city, looking for classes and maybe a cute boyfriend. Taylor Swift: There goes a girl heading to an office!
In this People Style Watch interview about her aesthetic, Swift also denies that she and her girlfriends dress similarly: "If they see me wearing something, they know it's because that's something that represents me and they'll wear something very different …" Nope and nope. Anyways, keep a-clopping on with those transfiguring oxford pumps! Who knows what lives they will lead to?