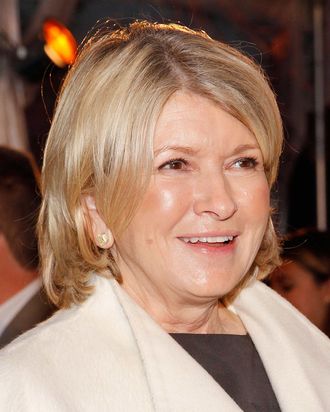 Photo: Mireya Acierto/Getty Images
At the Hermès All About Women event, Martha Stewart spoke briefly about a leather Hermès jacket she likes, but what she really wanted to discuss was her drone. She loves it: 
It has a little camera. You connect it to your iPhone, and you can control it with your iPhone, and it flies all over my farm and takes pictures. It takes wonderful aerial photographs. You can use it inside also, but I don't, because it can bang into stuff … It's easy to use, actually. You can really control it, it's gentle. It's lightweight, too; it's very beautiful.
A multiple drone-owner, Martha Stewart loves beholding her dominion from every angle. When Vanity Fair's Bennett Marcus asked if any of her neighbors were concerned about the flying gadget, Stewart replied, "No. I don't have any neighbors," while laughing. The stately, full laugh of a solitary drone-master.