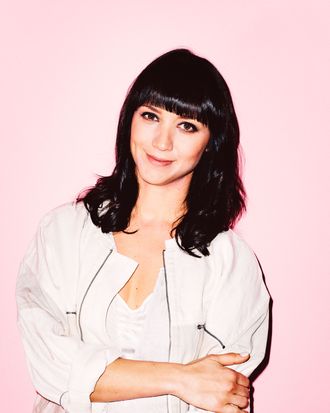 Name a beloved indie fashion brand and there's a good chance it's part of Mode, a boutique public relations firm founded by Amanda Carter in 2008. Carter's current roster includes quirky Parisian cobbler Robert Clergerie, boutique turned label Creatures of Comfort, and stripy-shirt-makers Edith A. Miller, as well as Tara Subkoff, whom she first met in the early aughts.
After years working for different top PR firms, Carter finally decided to branch out and start her own business. She spoke to the Cut about the decision to found Mode, the importance of handwritten letters, and what to do when Naomi Campbell calls you by the wrong name.
Did you always want to work in fashion?
No, I got my degree in French and anthropology. So I spent a year in France, and then I did a postgraduate program in Costa Rica teaching English to school kids. I thought I would move to New York for a year and see how it was, but I never expected to be here as long as I have been.
Where did you get your start?
I moved here in 2002. I was the receptionist at Dolce & Gabbana, which was amazing. Naomi Campbell came in one day, saying, "Sheila, darling!" Sheila was the girl who was in the position before me. She was a blonde from Jersey. [Naomi] is adorable, I love her — but I'm so not Sheila. I was dying laughing because she had no idea. Anyway, it was a long time ago, but it was funny.
So, how did you go from Dolce's front desk to owning your own PR firm?
I started doing PR [about] eleven years ago at Seventh House. I worked with Imitation of Christ, Tara Subkoff, Benjamin Cho, Marjan Pejoski [maker of Bjork's swan dress], Another Magazine. For me, it was the coolest firm at the time.  They asked me in my interview what my sign was, and I thought, This place is cool. You could bring your dog to work.
After Seventh House, where did you land?
I got an opportunity to go to ABC Carpet and Home, which was great. We did Benjamin Cho's show. We did Opening Ceremony's first look book. We did a lot of Vogue shoots, W shoots. And then from there I went to PR Consulting, which was like my finishing school. They were such pros at PRC.
So when was the turning point when you knew you wanted to do your own thing?
I didn't really have one. I was at PR Consulting, working under [current Proenza Schouler head of PR] Jenny Kim. I had awesome accounts. I had Dries Van Noten, I had Proenza, I had Nike, I had Wrangler. I was working on cool stuff. But I didn't have a lot of direct contact with the clients. Obviously, when there's a fashion director, and then two owners … I totally understand that. But it also takes out a lot of the creative process, if you can call it that in PR. So I started prop styling, which I did for four months straight after I left PRC. And then it just got slow in January. I needed money, so I started freelancing, I freelanced back at Seventh House for a while, and I started to gain clients. Robert Clergerie was the first one, who we still have, knock on wood. [Knocks on wood.]
Your client list is very specific. Do you aggressively pursue brands with whom you want to work?
I don't pursue people, I haven't [had to]. But I do have to feel very strongly that it's something I am happy to show to the world. That said, it doesn't mean that they're not doing something interesting and cool if I don't end up doing it. It's just that it's something that I can't do personally. That's why you have different firms with different objectives or taste levels. Haute couture is obviously much different from a contemporary line, so it has to be within the scope of things that I can accomplish. Because at the end of the day, I want the client to be happy, I want the client to be writing me a check. I want them to feel good about that and good about what I'm able to do.
It seems like you have a really level attitude about the fashion world. How have you been able to get to this point: to take the clients you want to take, say no to people, etc?
My dad is a good businessman and I feel like I learned a lot from him. He grew up without a lot and navigated himself through the business world. And also, being in New York, you learn a lot by watching people. At Dolce & Gabbana, I was only the receptionist, but I was watching. I also read a bunch of books before I came to New York on how to be professional.
Do you remember what any of them were?
One of them– oh, this book was amazing. The guy was giving all these examples of horrible, stupid things that people had done, like gotten really wasted at the Christmas party and told his boss to fuck off. You know, things that were hilariously outrageous and yet probably not very far from something I probably would've done in my early twenties. I read that and thought, Okay, shouldn't do that.
Yeah, I should have read that book.
The books said to do research on the company that you're going to go meet with, to be sure to know what you're talking about. So at Seventh House, I went in and said, "The reason I want to work here is because I want to work with independent designers." I knew all this stuff before I walked in there, and I told them that I would come in early and stay late. I'll do mailings, I'll lick stamps. I don't care if you yell at me. I just need the job.
How did you end up at PR Consulting?
I interviewed there once earlier on in my career. The interview went really well, but I think [Pierre Rougier, the owner] thought I wasn't ready. But he was really nice and we kept up. After I was at ABC Carpet for a couple of years, there was another opportunity at PRC. I had met enough people at this point, so I asked editors at Vogue, Vanity Fair, W, WWD, Elle, New York Times to …
Send him "Amanda is great" emails?
Yeah, and then I hand-calligraphied a cover letter. It said something like, "Pierre, I know we met two years ago and I'm sure you didn't feel that I was ready at the time, but now I'm ready to take on this job." I listed the things I had accomplished since we met, and then I had it hand-delivered to him. 
What keeps you in fashion?
The grass is always greener. People are always saying,  "Ugh, this sucks, blah blah." It's always cool to complain, like "Ugh, fuck this, man, fashion people are dicks!" But, newsflash, everybody's a dick! Do you think it's any better in accounts receivable in some random place in Ohio? Probably not. One thing from that book that was really interesting: No matter how much a dick anyone is to you, never say anything bad about anyone in the industry you want to work in. [Laughs.] It will bite you in the fucking ass.
Photograper: Eric T. White; Manicure: Casandra Lamar using MAC at Factory Downtown; Make up and Hair: Tiffany Saxby using Tarte Cosmetics and Philip B.