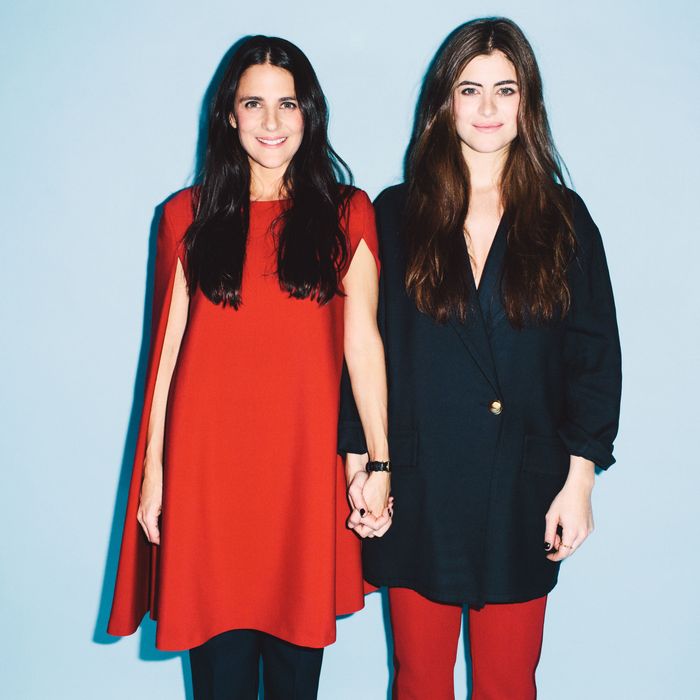 Annette and Phoebe Stephens were not jewelry designers from the start. Born in Mexico City, the sisters each attended Massachusetts boarding schools and colleges in Boston before moving to New York to pursue very different careers. (Annette made a go of acting while Phoebe was worked at auction houses.)
But on a trip to Japan, they dreamt up the concept for Anndra Neen, a growing line of architectural-organic cuffs, chokers, and clutches that launched in 2009 — which has set them on an entirely different career path. Early on, the collection excited fashion types looking for jewelry that made statements through proportion and structure instead of bling. (Their wire cage collection, which includes everything from a shoulder bag to a bib, has become a signature.)
The Cut talked to the Stephens sisters about their creative process, what it's like to see Michelle Obama holding something you've created, and their grand ambitions for Anndra Neen.
You grew up in Mexico City. When did you start getting into fashion?
Annette: It sort of happened without [us] knowing it.We had a grandmother [Nancarrow] who was larger than life; she was the woman who enters the room and is different from everyone else. We were always interested in costumes and putting things together and the fashion came from there. What about you, Phoebs?
Phoebe: Yeah, I would say the same. From a very young age, you know, we were always obsessed with magazines, going into our mother's closet, and seeing our grandmother. It was always part of our lives. I don't remember a time that it wasn't.

You grew up in Mexico, but both ended up in New York in different careers. How did you begin Anndra Neen?
Annette: We were on a trip together in Japan [in 2009], completely unrelated, and were just super inspired by the fashion scene there, the art, the history, everything.
Phoebe: We were at a restaurant, French restaurant in Japan. We decided to go to Mexico right after Japan because we had talked to someone who worked in metal, so we went straight to the guy's shop.
Annette: We actually did it; we did what we said we wanted to do. That's the biggest step of all, I think. Every day for a month, we went to that workshop to work with this artisan, who had studied at Taxco, the silversmithing school in Mexico. And we came at it with a more modern design sense. We created 70 pieces. We thought we would make 20, but it was 70.
What was your first big hit out of those 70 pieces?
Annette: I would say, like, the biggest thing to come out of that first collect was the cage cuff.
Phoebe: Yeah, which then got turned into a cage collection.
Where did that first collection take you?
Annette: The first collection was totally visceral — it was just sort of what we had created from within. And then we met the marketplace — we saw what was out there and what wasn't and what people wanted to buy — and so, of course, the collection has evolved.
You know, we still do pieces that we fully believe in and nothing we put out there is something we don't love or wouldn't wear, but we also take into account what people want to buy. We don't design trend-based [pieces], but we're aware of the trends; we're aware of what people want to see.
What was missing that you've capitalized on?
Phoebe: Chokers. At the time, there were no chokers in the market — at that time. In the beginning, we did them and people [still abhorred them]. Now they're everywhere.
What was one of the big, first accounts you landed?
Both: Kirna Zabete.
They sure are big supporters of young talent.
Annette: The store owners and buyers have a real eye. They have the vision to say, "This is something new that's not out there yet, but we'll get behind them and we'll support them."
Have you had a lot of celebrity placements as well?
Annette: The best all-time celebrity placement I would say would be when the First Lady, Michelle Obama, wore our collection. That was insane. It happened in our second year and was one of the most rewarding experiences. The ultimate celebrity. She has such style. We brought the image of her with the clutch to our workshop in Mexico City and showed it to these guys who had never left the country — they wouldn't stop staring at it. They were totally entranced that something they had made had been in her hands. Amazing.

In terms of your process, you're using these traditional methods but your stuff looks really modern. How do you explain your ideas to craftsmen who are used to more traditional work?
Phoebe: The head artisan, Reyes, understands what we want. He comes up with some of the stuff as well; we collaborate with him.
Annette: He has such vision and he takes such cues. We'll show him a book on Calder, or Acne's new amazing jewelry collection. He really takes inspiration from it and his own sense of design has also evolved.

You're sisters, so that creates a dynamic that a lot of close design partners don't even have. What is your working relationship like?
Annette: We really everything split down the middle in terms of creative and business. We're very lucky to have the same creative vision, as well as a sort of similar business sense. And the same sense of humor, which I think it essential when we're working together.
Phoebe: I think it either works or it doesn't with a sibling. We trust either other implicitly.

Where did the name come from?
Annette: It's a combination of our first and middle names.

What do you parents think of it?
Annette: They love it.
Phoebe: They're super excited. They call us the Neens.
Phoebe: Our father has painted for 40 years seriously, but he doesn't do it for money. It's a very serious hobby. So we saw him every day go to the studio in the afternoons and, he used to paint on Wednesdays, and our grandmother did do it professionally, and she was part of the Diego Rivera, Frida Kahlo time in Mexico and friends with them, so my father grew up surrounded by those people … There was always some creative thing going on.
You're obviously very creative people with a lot to say. Where do you see Anndra Neen going?
Annette: We see it as a lifestyle brand: a home collection, jewelry …
Phoebe: Free-standing stores …
Annette: Really, the sky's the limit. It could be furniture, it could be lighting, it could be carpets, it could be clothing, maybe. Objects.
Phoebe: Objects. Like, there's this guy who collects our bags and uses them as tissue holders. We have built [the brand] so carefully and we know it takes time, but we definitely have a very clear vision as to where we're headed.
Annette: We've had an amazing five years, but we also know that to have longevity, you have to build slowly. So that's our philosophy, you know, to take our time.
Phoebe: Yeah, maybe one day we'd like to be in a museum.
Annette: We'll see. [Laughs.]

Photographer: Eric T. White; Manicure: Casandra Lamar using MAC Cosmetics at Factory Downtown; Makeup and Hair: Tiffany Saxby using Hourglass Cosmetics and Paul Mitchell/Fat Hair at Factory Downtown. 
This interview has been edited and condensed.