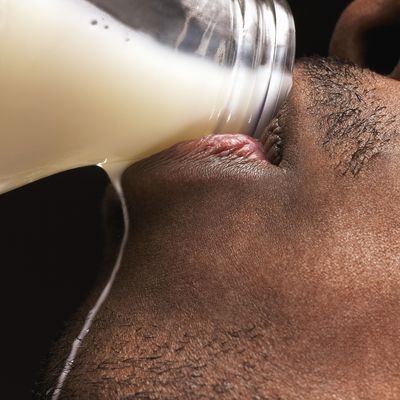 Photo: Simon Songhurst/Getty Images
Anthony, who lives in Queens, is an athlete, and he has a secret fuel for keeping his stamina up. A friend suggested he try it; a lot of guys he's met at different gyms use it.
"It gives me incredible energy I don't get from other food and drinks," he said. Typically, he buys it online for about $2.50 an ounce, which isn't too bad for a magic elixir — but, considering this substance is typically available free of charge, that price represents a substantial markup. Anthony does not mind; he's happy to pay. "I always compensate the women I buy from," he told me. "And pretty nicely, too."
Anthony's energy drink of choice is breast milk.
"I don't believe in steroids or other energy supplements, none of that garbage," he said in a phone interview. He'd been buying breast milk from his neighbor for the past year, but she stopped nursing. Now, he uses sites like Only the Breast: "I want natural stuff that's God-given, and if it's okay with moms looking to get rid of it, I'll take it."
Some men who drink breast milk, like Anthony, cite reasons of health or nutrition. Jason Nash, a 55-year-old father of four, started drinking breast milk after the birth of his first child. "It occurred to me that breast milk could be just as healthy and tasteful for adults as infants," Nash said. "I believe it has kept me from getting sick all these years." His wife isn't thrilled, but doesn't mind as long as the milk comes from a safe source. For other men (not least those in adult-nursing relationships), breast milk is a kink. "All I'll say is it's a fetish for me," wrote another man, whose post on Only the Breast identified him as a "nice, harmless man in New Jersey seeking breast milk from healthy, non-smoking mom."
Regardless of customer motivation, most national breast-milk banks reserve their milk for babies in need, leaving would-be adult consumers to use sites like Only the Breast, Eats on Feets, and Human Milk 4 Human Babies. (The sale of bodily fluids is banned on mainstream sites like eBay and Craigslist. Only the Breast co-founder Glenn Snow says while his site focuses on mothers, they "do not mind men seeking milk for health or wellness needs";  HM4HB is "donation-only and does not support the sale of human breastmilk.") As Wired noted in 2011, the donation of breast milk isn't regulated by the government in the same way that donations of blood, semen, or organs are — and that's allowed the breast-milk trade to flourish "on an unprecedented scale." Only the Breast's founders say the number of men seeking milk online has grown since their site launched in 2010. Last summer, The Telegraph reported that drinking breast milk had become a "fad" in China among "adults with high incomes and high-pressure jobs and who suffered poor health."
Certain studies have suggested that a compound in breast milk could help fight cancer cells, and researchers are exploring other possibilities for medical use. Mainstream medicine, though, has typically been skeptical of adults drinking breast milk. "This is quite bizarre, completely anecdotal and probably complete bunkum," said an Oxford pharmacology professor and cancer specialist whom The Telegraph asked about adult cancer patients drinking breast milk. "It probably won't do any harm, but it's unlikely to do any good either." And fad or not, society in general is equally suspicious. Anthony prefers not to tell people about his beverage of choice, because being "a thirtysomething-year-old man drinking breast milk makes me sound weird." (Likewise, most of the devotees I spoke to asked to be identified by first name only.) When Sarah Murphy, a 35-year-old Westchester mother, went on Only the Breast to donate unused breast milk, the responses she received startled her. "I was shocked men were asking for my 'nutritious milk,'" Murphy said. "It creeped me out to the extent that it made me second-guess the responses from women … I wondered whether there were even women on this thing, or just men trolling for milk."
Buying bodily fluids from strangers online also presents some clear health risks. Last October, the New York Times reported that "64 percent of the samples from milk-sharing sites were contaminated with staph, 36 percent with strep, and almost three-quarters with other bacterial species. Seventy-four percent of the samples would have failed milk bank criteria." Nash, for example, has been drinking breast milk for 17 years and says he's been extra careful in the wake of the studies cited in the Times.
"I screen the producers by getting their medical records, and I meet them in person to make sure they don't have needle marks," Nash said of the breast milk he buys, which he drinks sometimes straight up, and sometimes with coffee. "I will not buy via mail, UPS, or FedEx."
David, a 42-year-old Brooklyn resident, told me he first drank breast milk to help with his nausea while going through chemotherapy three years ago. The remedy was successful, and he's been drinking breast milk ever since. He describes the taste as "sweet" and  "ambrosial." (He adds that he has a friend, Joey, who started drinking breast milk on the recommendation of a holistic-health-care practitioner. Joey hopes to cure his psoriasis.) Jan Barger, a lactation consultant, said it's common for chemo patients to drink breast milk.
"It's easy to digest," she explained. "So for people struggling through chemotherapy and losing weight, breast milk can give them nutrients."
However, Barger doubted that breast milk would offer benefits to healthy people. Since it's designed to feed infants, she pointed out, it has a tenth of the nutrients a 200-pound man would need. When I mentioned Anthony's breast-milk rationale, she laughed.
"Well," she said. "We can talk ourselves into just about anything!"