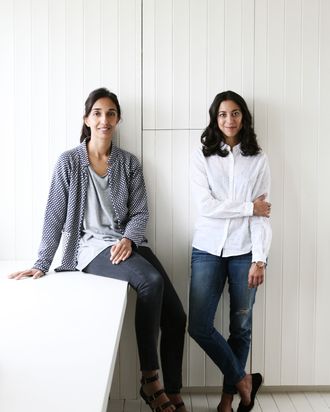 Chinti and Parker is a small London brand that makes incredibly soft and comfortable things — sweaters, T-shirts, tunic dresses — with a supercool, laid-back feeling. It's run by two very funny women: Anna Singh and Rachael Wood, who are cousins and best friends and co-conspirators in all ways. Lately, it's been growing in terms of possibility and scope.
So you are cousins. How did you decide to go into business together?
We're very close — like sisters who actually like each other. And both of us are somewhat style-obsessed, so our discussions naturally veered to the idea of setting up a clothing label together.
What are your fashion backgrounds?
Singh: I ran a beauty brand called Pout with three other girls, which gave me fantastic experience in launching and running a business.
Wood: I worked for Brown's doing e-commerce, so that also gave me a good background for what we're doing now.
What was the original idea?
Chinti and Parker began life as a luxury basics label with a focus on well-made T-shirts, sweaters, and cardigans, using organic cotton and fine Italian cashmere. We remain true to this still, but have expanded into more of a full prêt-à-porter collection that now includes colors and prints.
How did you get started?
In a very practical way, analyzing our favorite things and talking a lot about what would define Chinti.
So what does define Chinti?
Effortless style. It's clothing you can be yourself in. Stylistically, it's that whole French thing of easy separates you can throw on with jeans or with heels, and dresses that aren't too fussy or girly.
How big is your staff? Who are biggest fans?
We have ten people on staff now, and we have some pretty amazing celebrity clients, like Gwyneth Paltrow and Alexa Chung and Cara Delevingne, but our average customer tends to be our biggest fan because they tend to come back again and again.
What's next for you?
Silk and outerwear are already in the works!