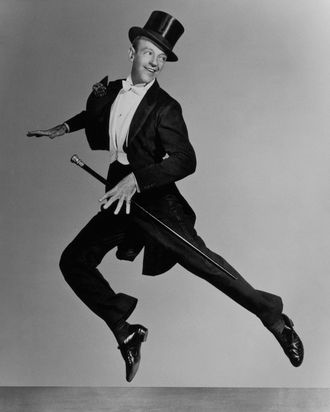 Photo: John Kobal Foundation/Getty Images
According to a story in WWD today, male guests are in a "tizzy" — which is around a 3 on the Richter scale of panic — over their Met Ball garb. Words they use to describe the situation include "angst," "stressful," and "shivers down the spine." Central to this tizzy is the shortage of white ties and tails — which, along with decorations, are required by the event's weird dress code. People have strong feelings about them, to say the least. One British journalist surveyed by the paper compares them to "wearing a guillotine, or having a knife cutting into your throat." Others bemoan the difficulty of tracking down the unusual accoutrements. The designer Joseph Abboud notes, "Any guy whose first and last names are interchangeable will have tails in his closet," but the invitation is "going to throw most business guys into a panic — we should start a hot line." 1-800-DANDY-PROBLEMS?
Meanwhile, more news about designer/date combos has come out. WWD reports that Amar'e Stoudemire will wear custom Lanvin, and André Leon Talley and Hamish Bowles will sport Ralph Lauren. The Cut has learned that Kate and Laura Mulleavy of Rodarte will be bringing delicate woodland nymph Shailene Woodley, along with their frequent companion and muse Kirsten Dunst. (But how will the Mulleavys transform spring's take on East L.A. for the formal occasion?) Kenzo's Humberto Leon and Carol Lim are, unsurprisingly, bringing their Opening Ceremony collaboration pal Chloe Sevigny. But what we really want to know is: How will Kanye tackle the whole "white-tie" thing?