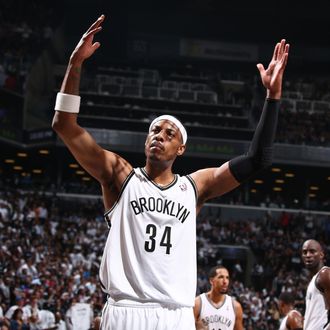 Photo: Nathaniel S. Butler/NBAE via Getty Images
The Brooklyn Nets, coming off a loss in which LeBron James torched them for 49 points, face the Heat tonight in Game 5 of the NBA's Eastern Conference Semi-Finals.
They'll be away from home, playing an extremely talented team that smells blood in the water.
With the Nets' possible elimination from the playoffs imminent, Science of Us reached out to Eric Simon, a journalist and the author of The Secret Lives of Sports Fans: The Science of Obsession, to see if he could offer any suggestions on how the team's fans should approach this evening.
Nets fans are experiencing a scary situation tonight. Got any advice for how to handle the psychological stress, particularly if they lose?
If you can view it as an accomplishment to have gotten this far, then if you lose it'll sting for a while, because it always does, but you will be able to reflect with much more satisfaction that "Hey, it was cool that they made it here."
But it's still pretty upsetting when a beloved team loses, no?
Well, the other thing is to acknowledge that the pain of this is actually real. That's the reason I did this book: I found I was getting more and more frustrated with myself because [attachment to a team] is just so irrational. And part of the shame is, "I don't understand why I feel such pain." But when you actually look at it, this team is actually a fairly reasonable approximation of a relationship. And I get a lot of identity and meaning out of my connections to these teams that I like, and there are the same pain and doubts that I get in any relationship.
So when people like you or I not only have an emotional reaction to a sports loss, but then beat ourselves up over it, do you think that we compound the pain?
Yeah! I think a large part of my frustration at these things is I behave uncharacteristically because I'm extremely disappointed. I pick up a pillow and slam it down, and I'll curse, and all this stuff I usually don't do as a nice little basically nature writer who delves into sports writing a little bit.
You have to basically admit that this has taken over a little corner of my life and that's not going to change.
Right. Because I have a little kid, I've been comparing it to parenting a lot. God, it's really fucking frustrating, right? But at the same time, there are these sublime little moments that kind of make up for all the horror and frustration. Except with having a kid everybody expects you to be frustrated and tired and stressed out, and with your sports teams, there are people like us who just don't expect that to be within the realm of what we should be doing. So I think part of what I've really had to try and do is just acknowledge that it's okay to admit that you're kind of frustrated.