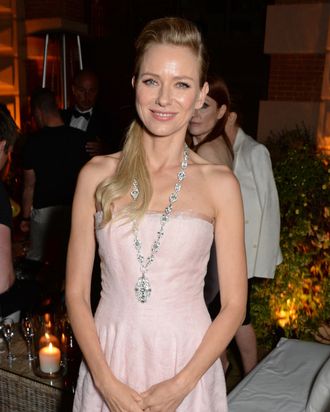 Photo: David M. Benett/Getty Images
The red carpet — where you could once find a Gap T-shirt or a swan dress amid all the couture — has become increasingly predictable as stars strike deals with every fashion house under the sun. At any given event, you know going in that Dior face Jennifer Lawrence will be wearing Dior, while Chanel face Keira Knightley will sport a Lagerfeld special, and so on. So we'll give Naomi Watts a little credit for at least surprising us: For the Cannes Film Festival, reports Quartz, she'll be wearing a look by up-and-coming designer … Prudential Financial.
Ad agency Droga5 created a campaign for the financial institution called "Chapter Two" that centers around retirees achieving their dreams. With (no doubt considerable) help from Marchesa designer Georgina Chapman, a 61-year-old aspiring designer named Francesca Azzara designed Watts's gown. We don't begrudge Azzara the chance to design a Cannes gown for a star — but the dress is being credited to Prudential, not Azzara, which makes the whole undertaking quite weird. What's next, Nicole Kidman in Bank of America? Olivia Wilde in custom Pfizer? It's bad enough that the red carpet has become an unimaginative shrine to luxury conglomerates, but with non-fashion corporations muscling in, this might as well be NASCAR — with each star racing around draped in advertising.
Watts's answer to the "And who are you wearing?" question might, unfortunately, be a harbinger of the red-carpet derby to come. In a masterpiece of press-release-style vagary, a company spokesperson told Quartz that Watts, while paid, is not a Prudential spokesperson. "We're not asking her to carry a message for Prudential. Her job is to wear a gown and wear it proudly." So the medium is the message?