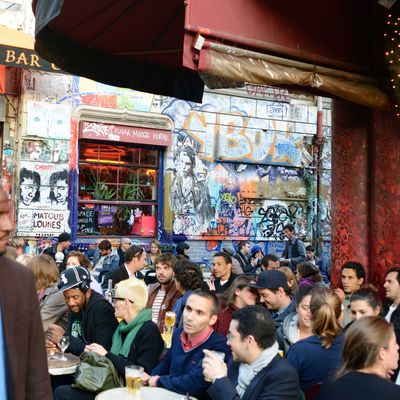 Photo: Frederic Soltan/Corbis
Okay, on s'excuse: As some readers, both French and American, have noted, we've occasionally erred in this monthlong blog in covering the fancier — or at the very least, the bobo — sides of the French capital. (And in doing so, we may have inadvertently reflected the growing pains of a city and a country that, as the European elections there last week indicate, is still struggling to fully embrace and absorb the incredible cultural diversity it has amassed in recent decades, becoming home to countless emigrants from North Africa, the Middle East, West Africa, the Caribbean, Asia, Eastern Europe, and elsewhere.)

Truth is, many would argue, the best Paris, the real Paris, the vital and forward-looking Paris, is the Paris that lies beyond the tourist-y, luxury-branded realms of the Rue Saint-Honoré and the Marais.
Let's look at some of the neighborhoods where "real" — that is, working- and middle-class, or, as the French say, populaire — Parisians live. (Note: My Marxist French husband grumbles that "all of Paris is bobo now," which is why we're including some towns just outside the city's Péripherique, or ring road — which he feels have already become bobo as well.)

The Pools
The recently redone Art Deco masterpiece Piscine Molitor, which costs €180 to use unless you are staying at the €300-a-night surrounding hotel, is a far cry from Paris's extensive network of amazing pools, where much of everyday Paris — including folks who can't afford to travel in the summer with their time off — cools off and relaxes, for only a few euros a visit. The roofless Josephine Baker pool, named for the beloved American expat chanteuse, may be the most popular, situated as it is right in the Seine, but my daily favorite was Piscine Pailleron in the racially mixed 19th arrondissement. It's a large pool with a glass ceiling and a sunbathing lawn outside, full of everyday Parisian families splashing around in the adjacent kids' pool, not to mention macho young guys not afraid to rock a tiny Speedo. (Note: Parisians don't take their bathing suits off in the showers, even though they're gender-segregated.)

Guerrisol
Lest you think Paris shopping is all overpriced Marais boutiques, you should know that a good portion of Parisians get their clothes at Guerrisol, a chain of rockbottom thrift stores where you'll dive in among immigrants, hipsters, and grandmas to find that perfect €25 leather jacket or €8 dress. Usually, they're playing Nostalgie, the French oldies station, so you can listen to Alain Souchon and Françoise Hardy while you treasure-hunt. At least three of the stores are on Boulevard de Barbès, which brings us to …

Château Rouge
Take the 4 train to Château Rouge in the 18th arrondissement, the hub of Paris's African community, with a large Maghrebian (North African) population as well. I lived here, and nothing made me feel like I was still in the hustle of NYC than ascending from the métro into the area's throng of outdoor markets, where folks buck the Parisian taboo against eating-while-walking by munching on roasted corn cobs, often while sporting amazing African prints. Boulevard Barbès divides the neighborhood from its African heart on the right (stop in at Les 3 Frères for an unpretentious couscous lunch) and the charmingly non-touristy, workaday backside of Montmartre on the left (follow rue Custine all the way up to rue Duhesme, where you'll find L'Etoile de Montmartre, a bright-red corner bistro where the servers will treat you with an indifferent warmth that epitomizes Parisian behavior outside the tourist zone, where the vibe tends, understandably, toward active hostility).

Jaurès
Getting off at this métro stop, one of two in the city named for this hero of the French left, will put you in the heart of Paris's 19th arrondissement, a (quickly bobo-ifying) mélange of Arabs, Orthodox Jews, and artists. You're not far from Canal de l'Ourcq, the quieter, less trendy extension of bobo mecca Canal St. Martin, where you can drink beer or coffee at baby-blue-painted Bar Ourcq and either watch, or join in, the cranky old pétanque players across the street. (Just don't inadvertently walk through their game on the way to the edge of the canal.) You're also not far from Parc des Buttes Chaumont, which many consider Paris's most beautiful park, with its Romantic bridges, turrets, and manmade cliffs and waterfalls. Sunday evenings there (arrive before 5 p.m. or queue up forever), you'll find Rosa Bonheur, a young and cool (but not snooty) dance party that's an update on the classic French guinguette, or dance hall.

Not far from there is Avenue Sécretan, where you can spy on non-tourist, everyday Paris at its finest. Have a hard-boiled egg at the bar of Le Dauphin or Le Carrefour, then just sit outside, nursing your coffee or beer pint, and watch people.

Belleville
Paris's Chinatown (in addition to Place d'Italie), this outlying neighborhood, with its stunning hilltop views, is also quickly bobo-ifying but retains its multiethnic working-class hustle. Sit outside and people-watch on the main square at La Villeuse, get great cheap Vietnamese at Dong Huong, drink with the cool arty kids at Aux Folies, and dance late into the night at La Java, an alternative music space dating back decades.

Les Banlieues
These refer to the suburbs/little towns just outside Paris's Périphérique that are still accessible via métro. The one getting the most attention these days from the art world is Pantin, where top gallerist Thaddaeus Ropac has opened a space.

But there's also Montreuil, whose massive Saturday flea market is the opposite of touristy, exorbitant St.-Ouen — it's not particularly cute and it's full of real people getting bargains on real things, like hardware, kitchen supplies, and running shoes. Quainter is the area around Neptune, a nonprofit thrift store packed with bric-à-brac and staffed by kindly middle-age women who eat together in a cozy communal kitchen.

Finally, there's St.-Denis, which is not just the home of the famous cathedral, but also one of Paris's poorest suburbs, full of public housing towers. This is where riots and car-burning took place in 2005, putting an international spotlight on the side of Paris tourists seldom see — that of poor youth of color with few opportunities for advancement. They live in a society that, though it may provide them basic housing, health care, and subsistence checks, has still barely realized that its future growth lies in tapping into the energy and potential of its immigrants and their children. A nonprofit group called Acceuil Banlieues now offers housing and tours through St.-Denis and similar suburbs. You could equate taking one to the slightly icky practice of touring the ravages of Hurricane Katrina in New Orleans, or to Europeans' mania for visiting Harlem Sunday church choirs. Or you could see it as a chance to see 2014 Paris in its full complexity.