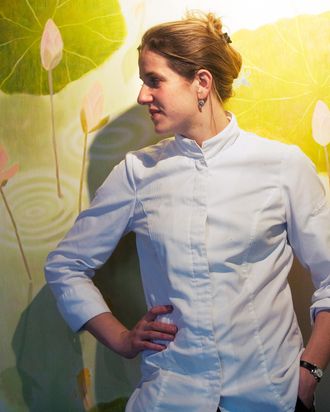 Photo: Francesco Acerbis/Corbis
All month long on Paris in 30 Days, we'll be pairing up our editors and critics with their counterparts across the pond for a series of cross-cultural conversations called Exchange Rates. Look out for own Love & War columnist Maureen O'Connor who'll get the scoop on Parisian sex and dating mores up next, but this week on deck is restaurant critic Adam Platt, who talks cronuts, Nordic fascination, and the New York and Paris food scenes with cookbook author, radio personality, and restaurateur Bruno Verjus.
Adam Platt: The food world in New York seems to be getting simpler and simpler. People are wild for vegetables, and carrots in particular. Lately, we've also been in the grips of a bread craze. It seems everybody's insane about bread.
Bruno Verjus: Bread?
Platt: Any kind of fresh-baked bread. The restaurants bake their own breadbaskets and then charge money for them.
Verjus: They charge money for the breadbasket?!
Platt: Yes, they charge money for the breadbasket. Anyway, what's the latest culinary craze in Paris?
Verjus: Paris is full of very young, international chefs now. Some are from Japan. Some are from Australia, some are from America, some are from the U.K. They want to produce everything by themselves from the ground up. They want to make the cheese, churn the butter, roll the bread, make the blood sausages from the original pig's blood. It's a big influence from Northern Europe.
Platt: It's the Noma Haute-Forager Effect. Everyone wants to be like Noma. That's been happening here in New York, too.
Verjus: In Northern Europe and Scandinavia, these chefs (like René Redzepi of Noma) get just two months of sunny weather when the veggies can grow, so they have to manage to keep food for the rest of the year. They need to forage, to preserve, to pickle.
Platt: It's a kind of philosophy of life. It's going to back to the old ways of living. Just like the whiskers and the tattoos. Do you think it gets a little tiresome?
Verjus: Yes, sometimes. In France, we have some very strong rules regarding the safety of food in restaurants. You cannot just buy blood somewhere and then put it in your sausage. You have to know where it comes from. You have to know where the cream for your butter comes from. If you don't follow the proper regulations, you will get a penalty (from the authorities) or see your restaurant close.
Platt: That sounds like a grim situation, Bruno. I wish you luck with that. What about comfort food? I've read in the past that Parisians were lining up for cupcakes and American hamburgers and things like that. Is this still happening?
Verjus: Yes, that's been going on for some time now. Also, we have these crazy food trucks.
Platt: New York has plenty of those. I'm waiting for the backlash, but they just keep coming. When were you last in New York? Have you ever heard of a cronut?
Verjus: No. What's a cronut?
Platt: You've never heard of the famous cronut? It's a combination of a croissant and a donut, invented by a French patisserie chef here named Dominique Ansel. People come from all over the world, even Paris, to line up in the morning in front of his store for a taste.
Verjus: I will have to check out this cronut on the internet. How does it taste?
Platt: They're elaborately rich. Some of us think they're almost too elaborately rich. I'm not sure you're missing out on anything. What else are Parisians lining up for?
Verjus: Have you heard of Greg Marchand? He's a French guy who spent most of his career in London. He has a very popular restaurant called Frenchie, which specializes in classic bistro dishes. Now he has Frenchie to Go, where you can get fish and chips to take away, with mashed peas, along with very nice sandwiches stuffed with coleslaw, which he makes, and pork. People really seem to love it.
Platt: Do you love it?
Verjus: It's okay, but it's, you know, also heavy. You have to compare [it] with what's happening in the States, where all the food is so big it's sometimes a little disgusting. But in America, you get a lot for a small price.
Platt: It's the Americanization of French comfort food.
Verjus: I am afraid so. Yes.
Platt: It's been fashionable, for a while now in New York, to say that the old-fashioned "haute cuisine" is dead or dying. But classic French bistro food has experienced a kind of renaissance. The city is filled with new places selling croissants and roast chickens, and new versions of old classics like duck à l'orange.
Verjus: Actually, I think there is also a little bit of a revival of the old cuisine now in Paris. Bertrand Grébaut, a young chef at a popular restaurant called Septime. He was once a commis at L'Auberge, but his idea is to abandon the "hipster style," and to come back to the simple, old way of cooking, the simple rich sauces, the pure ingredients, all the old-fashioned things.
Platt: Are you happy with the restaurant scene in Paris, or do you think it's a confused, dark time for chefs and eaters?
Verjus: I think we're in an exciting time. Ten years ago, Parisians had the choice of maybe five or ten restaurants they could feel comfortable with. Now there are more than 50 — it's not so common with the French to have a lot of options. It's not like you're in Asia or New York, where there are so many choices that you don't know what to choose. Now in Paris, for example, there are maybe 60 Japanese restaurants making French/Japanese food.
Platt: In New York, you can eat well now in many more neighborhoods than you used to. I suppose that's true in Paris too.
Verjus: Yes. There's L'Arpège, with Alain Passard, who I think is one of the most exciting chefs in Paris in very long time. We have cooks like Adeline Grattard. She's a crazy-good cook. Her restaurant is called Yam'Tcha. She's been to China many times, and she's cooking French food in the Chinese style, in a wok, with Chinese seasonings.
Platt: That sounds a little more exciting than what's going on in New York at the moment, I have to tell you. Tell Mademoiselle Grattard, if you see her, that we'd love to have her come do a Chinese/Parisian pop-up in Bushwick. She will have all of New York City eating from the palm of her hand.