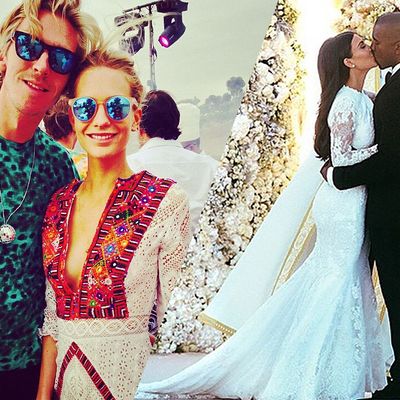 Photo: peter_dundas/Instagram; kimkardashian/Instagram
Last weekend, two different couples celebrated their everlasting love in two wildly different ceremonies, which both involved lots of schlepping.
Kanye West and Kim Kardashian crashed the laws of space and time to honor their matrimony in two different cities simultaneously. British model Poppy Delevingne and James Cook wedded in a church in London and celebrated in an outdoor desert hallway in Marrakesh, Morocco.
It's the world's-most-talked-about-couple versus a pair of beautiful English people — and they unintentionally engaged in a wedding battle. Competing in 13 categories, these two marriages have been rigorously ranked below:
1. Theme
Kanye and Kim presented a European/King Things/Grand Things/Conception Reference theme for their wedding. Delevingne and Cook had a traditional wedding in a church in London, followed by a "hippie rave" in Marrakesh.
Winner: PD-JC.
2. Invitations
PD-JC sent out a casual watercolor invitation. It's pretty twee. The Kardashian-West invitation is the color of an oyster shell. The script is in all caps, so it should be read in the voice of a hushed Kanye yell.
Winner: Kimye.
3. Guests
The Kimye wedding was marked by who was not there. For example, Beyoncé and Jay Z famously did not attend. A flood of fans mobbed the streets of Florence after hearing Justin Bieber was at the wedding, but he was not. Meanwhile, Joan Collins was attending a hippie rave! So did a Spice Girl!
Winner: PD-JC.
4. Lighting Scheme
The Marrakesh bash was illuminated with the traditional lighting of a rave (pink neon flickers, notably aided by Alexa Chung's glow-stick necklace). The lighting at the Kimye wedding was presumably normal, but the lighting in their photo booth was impeccable. It made everyone's face look like a magical chiseled statue.
Winner: Kimye.
5. Wedding Dresses
For her church ceremony, Poppy Delevingne wore a "two-way" Chanel Couture dress (the elongated part could be removed to reveal a minidress fit for dancing). Her Emilio Pucci hippie-rave dress was doing too much in an exuberant, medieval-fairy sort of way. Kim wore a Givenchy gown. It was white and lace, and she looked like a pretty wedding mermaid.
Winner: Kimye.
6. Guests' Outfits
At the PD-JC nuptials, the guests wore a veritable tag sale of fun items: red fezzes, a dress that seemed to just be a single eyelet, a power-suit version of a crop top. Someone wore what I'm positive is a turkey hat. Kim Kardashian's sisters did their part to bring back the maxi-dress.
Winner: PD-JC.
7. Ceremonial Backdrop
The PD-JC hippie-rave ceremony took place on a carpeted patch of desert. Kimye wedded in front of a 20-foot-high wall of peonies and white roses in front of a 16th-century fort.
Winner: Kimye.
8. Conversation
While hippie raves don't need to supply fascinating tête-à-têtes, a luncheon should. André Leon Talley says that the conversation between Kim, Kris, and Valentino was "all about" Pilates and Pilates trainers and Pilates equipment.
Winner: PD-JC.
9. Music
At the Kimye wedding, sounds emerged from the mouths of Andrea Bocelli, John Legend, and Lana Del Rey. No word about the sounds from the hippie rave, but there appears to be a concentrating DJ in the back of some photos.
Winner: Kimye.
10. Photographic Policies and the Quality of Everyone's Mugging in Photographs
At the Poppy Delevingne wedding, sister Cara was manning the disposable. The Kimye wedding had an interesting tension between banned-but-present paparazzi. The Kardashian-West team set up a photo booth with the express purpose of encouraging mugging, but Poppy Delevingne had the benefit of being related to Cara, who pulled a lot of the weight for this category.
Winner: PD-JC.
11. Social Media
Social media was semi-forbidden at the Kimye Industrial Complex Official Union. What did spurt out was disorganized and boring. The Delevingne-Cook group was highly amused with Morocco. Their specialty was the Coachella-inspired group shot.
Winner: PD-JC.
12. Level of Commitment
Poppy Delevingne and husband James Cook got wedding tattoos. That's commitment. Just like a wedding.
Winner: PD-JC.
13. Royalness
At the Delevingne-Cook wedding, Princess Beatrice wore another fucked-up hat, just like she did at the fancy Royal William and Kate nuptials.
Winner: PD-JC.
By our calculations, lovely English roses Poppy Delevingne and James Cook win this race. They will receive a silver gravy boat in congratulations. Mr. and Ms. Kardashian-West get a Keurig machine for participating.