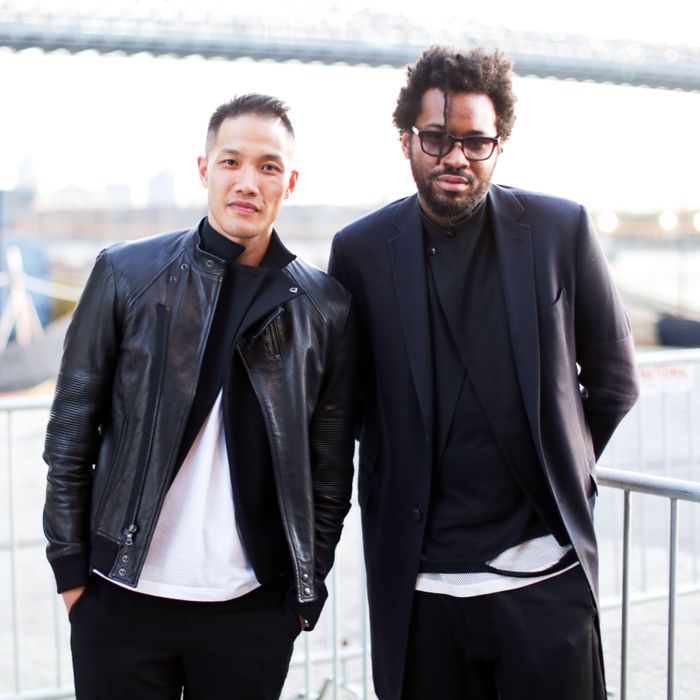 Photo: David X Prutting/BFAnyc.com/BFA NYC
"We feel like people will be wearing onsesies in the future," joked Public School designer Dao-Yi Chow of designing jumpsuits for men. Chow and co-designer Maxwell Osborne chatted with artist Daniel Arsham about their CFDA-award-winning line at Soho House yesterday, in a conversation that touched on everything from Harrison Ford to the Jonas Brothers. (The two finish each other's sentences. It's adorable.)
On fall, which was inspired by Blade Runner:
Maxwell: The whole team looked at the two main characters [for inspiration] and Harrison Ford's character wasn't necessarily the good guy. I think it's really playing more on something a little more heavy than specifically the visual. I think once we get the mood of it, then from a stylistic standpoint — it doesn't necessarily change that dramatically.
On the girl they imagine wearing their debut women's collection:
Dao-Yi: It's us. It's us as women. No, but it's the woman we'd hang out with, not necessarily our girlfriend, but it's the girl we hang out with.
Maxwell: It also was a really conscious decision to make it a direct extension of what the menswear was. I think earlier on you know, our girlfriends and friends who were girls were always sort of wanting to wear the men's stuff.
Dao-Yi: We didn't watch any movies for this one. This one's just based off this concept [we] called "precious metals." Like, ladies, if you have a really expensive necklace, you just treat it differently than a regular necklace. Bringing that idea, that mentality, to the garments, and how you treat your garments.
Maxwell: When you think about our collections in the past, they haven't necessarily been very precious. They've been sort of rough and utilitarian, so that word never really comes into play. So it was interesting way to look at our collection and treat it differently than we had been doing in the past. Then there's also another floating idea, tentatively called "glitch," where we're looking at distortion and playing more with prints. This collection is actually going to be one that is sort of outside our comfort zone. Which is good, I think, but we're playing with a lot of things we've never done, like color and prints.
On their J.Crew collaboration, which comes out in June (so soon!):
Dao-Yi: We thought we were going in to do men's, and Jenna [Lyons] was like, "No, you guys are doing women's." And this was before we actually fully committed on launching women's for fashion week last year, so it was actually a good jump.
Maxwell: It's like nine pieces, but it feels more like J.Crew than Public School. But it was fun for us because we were able to have more fun with it. Not that we don't have fun with our own collections, but it's pretty stressful doing our own collections. So this one, we did graphics and color and —
Dao-Yi: That's a huge team, which is crazy. For us, we're still small, and our team is crazy, but you know, at J.Crew, their fittings alone are like 18 people.
Maxwell: Working as a small brand, to be able to affect a lot of people, which I think this J.Crew project will do, is, something really cool [compared] to having 100 people buy a shirt of yours, versus 10,000 people. Right? So that's exciting to impact more people.
On their number-one Instagram fan:
Dao-Yi: Joe Jonas has liked your photo! [The Cut favorite was in the audience yesterday, along with his brother Kevin.]
Maxwell: Every time Joe likes your photo, all these 12-year-old girls like it.