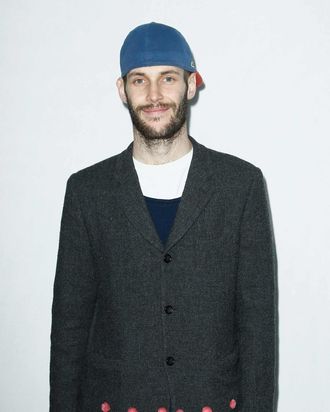 Photo: Julien Hekimian/Getty Images
Simon Porte Jacquemus is a 24-year-old self-taught designer who started his own label at age 19. Born in Salon-de-Provence in southeastern France, he has worked his way forward wholly independently, and now has his own studio just off the Place des Vosges. His collections feature crop tops, full skirts, oversize T-shirts, jumbo clown coats, blobby dresses, asymmetrical pieces, and slouchy proportions. He revels in "off" taste and juvenilia (he tells me he sat like a well-behaved child waiting in front of his telephone for our interview to begin).
He's recently published a book in tandem with his spring/summer 2014 collection, La Grande Motte, a reference to a seaside resort in the Languedoc-Roussillon region built in the 1960s and '70s, characterized by its homogenized architecture. He is also one of 12 finalists for the prestigious LVMH Prize, which will be announced today. He spoke to the Cut about Rei Kawakubo, his burgeoning interest in menswear, and why he believes Paris is still the star fashion city.
To start, tell me about your new book, La Grande Motte. What inspired it?
My clothes aren't actually about clothes or look books. I wanted an object beyond a collection, a "souvenir." La Grande-Motte is a French town designed by one architect: He did everything from the buildings to the streetlamps to the garbage cans — everything. A lot of people hate it; it's known to be kind of a yokel-y, trashy town. It's one of the first books about this place, a vacation spot for the working class.
How did you meet Bertrand le Pluard, who took the pictures and has made several videos of your collections?
We do everything together. People have proposed big-name photographers to work with me, but he's been with me since the beginning; we do all the films together. I write a film with him before making the clothes, and then I make the collection. 
You're short-listed for the LVMH Fashion Prize. Your collections have a very slacker-girl vibe, and you've talked about having a very "Southern France" state of mind. Yet LVMH is about globalism and is an ambitious company. How do you bridge those two worlds?
I felt LVMH to be family-oriented and sincere, especially Delphine Arnault. The company is about luxury, but they're also really engaged in helping young designers. I felt comfortable, anyway. I want to be a dreamer, but I have to sell clothes; otherwise I can't evolve. I'm obsessed with selling my clothes, it's an economic reality: I need to sell for real. I built all this with so little money. Ever since my first season, I realized I had to sell; I needed a commercial strategy. 
I read that you started with a minimalist aesthetic partially due to financial constraints. What would you splurge on if you had a bigger budget?
Well, it was still my aesthetic. But I would get rid of details, eliminating pockets when possible, for things to cost less. But I'm not creating stuff like Christian Lacroix, either! If I had a bigger budget I would do more couture moderne: more refined, more exacting, spectacular space-age pieces from the '60s; that's what I like. But always mixed with T-shirts and sneakers. I'll always be sporty and young.
Why womenswear?
I didn't choose it; it came to me spontaneously. When I was little I would draw things for women. For the first time I'm starting to think about menswear. If I could — or when I can — I will do menswear.
You worked in retail at Paris's Comme des Garçons boutique.
I stopped working there last year. It was crazy; it was surreal: I would design my collections for Fashion Week, and then go back to work the next day. It was great. But now I'm working on my collections full-time.
Did retail teach you anything that has since helped you as a designer?
Yes and no … I was at Comme des Garçons; it's a brand you can learn so much from. There's both a real creativity and a commercial strategy. It encouraged me: Being there for two years made me stronger, in the sense that it helped me know what I really wanted. There's a radicalism to Rei Kawakubo: She says "it's this," and pushes things in one direction. If you want something, do it all the way. It's a certain form of … of not humor, but of lightness.
Paris isn't known for being terribly open to young new designers. Are there other cities you would be interested in creating in?
Fashion is ultra-, ultraclosed. I found so few people I related to. I ignored a lot of rules, but I'm still here. I wouldn't want to be anywhere else, though. I always dreamed of coming to Paris. I remember as a kid hearing this somewhere: "If one day you are known in Paris, you'll be known the world over." I tried to lose my Southern French accent early on, so people couldn't tell that I was not from Paris!
Tell me about how, concretely, you got started here …
Concretely: There were a lot of things I didn't know — that you needed a press person, that you needed to be sold in boutiques. I first created and designed my website. It still looks pretty much the same today. I bought fabrics, and used a modeliste (pattern-maker). 
I moved to Paris when I was 18; I'd just finished high school, and was enrolled in a fashion school in Paris for two or three months. One month in, my mother died. It was a huge shock. It was — is — the shock of my life. I said to myself, Simon, don't waste any time. I became obsessed with time: "Do everything you can today." I was obsessed, obsessed. I decided to launch in 2009, and named the label Jacquemus, after my mother. 
That's very moving. It's been five years now since the launch. How have things changed?
They haven't, really. It's always easy to imagine a collection, to invent a film; it's always difficult to find the right materials, to translate imagination into reality. I can't hide that now I have a studio, that I have people who work for me. It doesn't diminish from the workload though. No one is creating with me — and I don't want anyone to. The more you advance in fashion, the harder it is, that's kind of the truth of it. 
I always say: I don't do clothes, I do stories. I know why I used the print on a T-shirt; maybe it's dumb, but that's my way. I want to dress women. Sometimes there are badly dressed women, who wouldn't wear my clothes, but I still think they're très Jacquemus. It's a whole universe, a concept. Something could be a "Jacquemus"-y shirt, or a "Jacquemus"-y bike.
A bike? What would be Jacquemus-y about a bike?
I just said that because there's one in front of me! It's more of a playful spirit, clean, fresh, and at the same time raw. If you put photos in front of me, I could tell you whether things were Jacquemus-y or not!