Photo: Dave M. Benett/Getty Images
When Middleton family wild card James (Kate's 26-year-old younger brother) revealed this January that he's the mastermind behind Boomf, a start-up that prints your Instagram pictures onto marshmallows, it seemed too good to be true. People were, at the very least, incredulous: on an embarrassing-brother-themed episode of NPR's "Wait Wait … Don't Tell Me!" one contestant chose to believe that Igor Putin had created a pill to stop old people from smelling old, rather than think that a royal brother-in-law was in the selfie-and-sweets business.
But James is serious. "When you see yourself on a marshmallow, or your loved one or your pet, you have a little moment with that little marshmallow. There aren't many products in the world like that," he told the Cut over coffee, after insisting that we dunk a bright yellow, gingerbread-man-printed marshmallow in our cappuccino. ("It turns a quite boring-looking cappuccino into something that's actually quite fun now," he said, looking pleased with the admittedly cute result.)
Middleton's first entrepreneurial venture was the Cake Kit Company, which he founded in 2011 after dropping out of college. That one proved unprofitable — but Boomf sold £100,000 worth of marshmallows in the first three months following their December launch and is currently seeking investors. "I feel like we're onto phase two of taking over the marshmallow world," he explained, with no trace of irony. Boomf — named for the sound of a marshmallow going through a letterbox, or, James points out, the noise that would result "if you were to run into a giant marshmallow" — operates entirely by mail order. $26 will buy nine personalized, screen-printed marshmallows, shipping included.
The Cut spoke with Middleton about life as a self-described "new age Willy Wonka."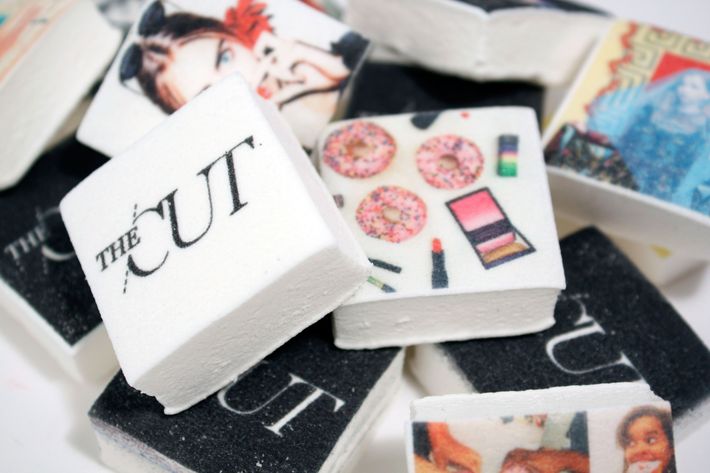 How did you come up with the idea to print Instagram pictures on marshmallows?
I'd been in cakes for quite a few years — I developed a powder cake mix and discovered printing techniques using edible inks. Recently, I've been looking for ways to turn digital into physical; so, taking a digital thing and then being able to touch it. I gave myself three criteria: You had to be able to send it anywhere in the world, and it had to be edible, and it had to be personalized.
I looked at different products we could do, and the marshmallows were the most fun to develop. There's so much fun we can have with it, because you can give them to somebody that's been dumped by their boyfriend, so they can burn their ex on a campfire, or you can have your ideal person dunked in hot chocolate, and you can give them to your grandmother.
Are you involved in the actual making of the marshmallows?
I designed the process for [making] the marshmallows, so whoever has the first thousand or so orders of marshmallows were made by me. And pretty much every day I'll be working at production at the factory, and we'll be seeing the orders go out. I love it. I'm always tinkering with the machines, to try to make them faster or trying to improve it.
Had you ever made marshmallows before Boomf?
No, and I'll never forget my first experience making marshmallows. It was so much fun, and I encourage anybody to do it — just prepare yourself for a mess. But, just seeing the marshmallow fluff start to turn fluffy, it's just — it gets stuck over there, it gets stuck over here, it's stuck over here — I really enjoyed it. The problem was, I was quite impatient. You have to leave the marshmallows to set in the region of six to eight hours, depending on humidity, and so I'd be there and two hours later I'd come back — so there'd always be finger marks, because I'd be checking to see if they were set. The first batch I made, well, I'll never forget it, because they actually tasted like marshmallows. I was quite happy about it.
Have you encountered any difficulties?
Yeah, marshmallows aren't very forgiving. Despite their soft and fluffy nature, they are actually quite menacing. They're really sticky, and marshmallow dust gets everywhere, so we had to build an entirely new extracting unit, because everything at the end of the production run was getting a covering of marshmallow dust.
What's the biggest marshmallow you've made?
The biggest marshmallow I've made is A3 — so, twice the size of this [letter-size] piece of paper. And we've printed it as well. We're playing around with a lot of different things to do with them, so you may be able to order an A3 marshmallow soon. You have to have a few people to help you share it, because that's quite a lot of marshmallow there.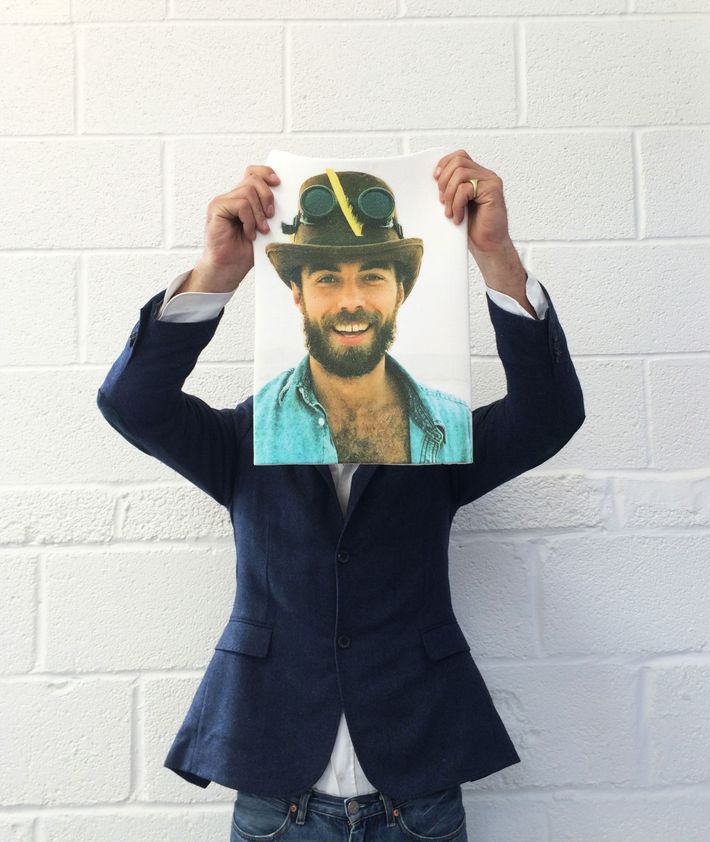 What's the best way to eat a Boomf?
Well, it depends what you like. Are you a dunker or are you a burner?
Can you roast a Boomf?
Oh yes, yes — they roast very well. If you skewer it, not through the printing but through the normal side, and hold it on there … But, to be honest, I think putting them in hot chocolate — and, towards the end of it, when it's sort of heated up a little bit, then you've got a wonderful, gooey … that probably is my favorite.
How many marshmallows would you say you eat a week?
Actually … quite a few. I like to do what I call consistency in taste tests, to make sure each batch is the same as the one before. So, I taste quite a lot.
You taste every batch?
Every batch, yes, will be sampled by me at some point in the day. So, yeah, I've got to renew my gym membership. I've got to make sure I say that. But I absolutely love it — I don't see it as work. I love going to work. And of course there are times when it's stressful and hard work and you think to yourself, How did you ever come into making marshmallows with selfies on them? But I just enjoy it so much. You have to eat, sleep, and dream your passion, otherwise it's not a passion.
Did you encounter any difficulty convincing people this was a good business idea?
Oh yeah, yeah, yeah. I mean, my parents — I remember seeing them that one weekend and saying, Look what I'm working on, and the look on their faces was just sort of like, What's he doing this time? I think if you tell somebody about it, they're sort of like, No, that's crazy. And when they see it they're like, Wow, that is just awesome.
We haven't yet had a marriage proposal on a Boomf marshmallow, which I want to have because I want it to be edible. Or, like, a secret message from the government that uses Boomf marshmallows to stop secret documents from being leaked — like, they're put on a marshmallow and then the evidence is destroyed. Those are some of our brainstorming ideas. So, yeah, to the White House: If you ever need any paper that can be destroyed, like spy-style paper, we'll do that.
Has your family since come around to Boomf?
Oh yeah. I think my family knows that I'm slightly off the wall with my way of thinking, so I think they're quite used to my weird and wonderful creations.
Is George old enough to eat marshmallows?
I haven't found out. No, no — I don't think so, no. He hasn't tried one yet. So, yeah, I think he is too young.
What's next for Boomf?
Well, Boomf on Demand, Printed on Demand: The Bod Pod. That's phase two. You'll be able to go up and print your images, and within about three to four minutes, you'll be able to walk away with your personalized marshmallows. We're also working on a photo booth, so you can go in and get your picture taken, and get your picture straight onto a marshmallow. There's a real magic in how we make them. If Willy Wonka was being written about today, Boomf marshmallows would absolutely be in it. Forget lickable wallpaper or an edible house: This machine would be there.
Do you think you'll ever get sick of marshmallows?
I don't think so, no. No, because I want to eat one now. I'm very much surrounded by them, but I still love them. It's such fun. I mean, just, no, is the answer. Marshmallows are sort of like an essential candy. They're pillows of sweetness.