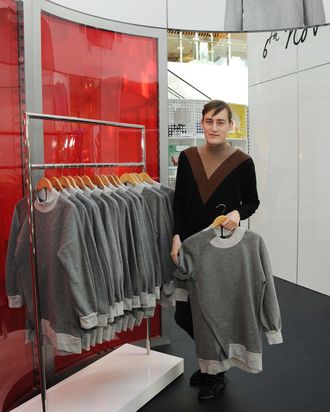 Photo: Bertrand Rindoff Petroff/Getty Images
Earlier today, Thomas Tait won the inaugural LVMH Prize, chosen from 11 finalists by a jury of superstars including Marc Jacobs, Karl Lagerfeld, Phoebe Philo, Raf Simons, Riccardo Tisci , Humberto Leon of Kenzo, and Nicolas Ghesquière.
The prize of 300,000 euros will give the London-based designer's business a boost, but it's the mentorship offered by LVMH that is widely considered to be the greatest win. "The money goes fast, but the mentorship is really important," said Julie Gilhart, who was on a panel of experts working across the program. "Thomas comes out of that London scene — he's a true designer — but he's been on his own and not had a lot of support. This kind of prize will really give him access he needs to mature as a designer."
In addition to the major award, special prizes of 100,000 euros were awarded to Miuniku from India and New York's own Hood by Air. Separately, three fashion students from London, Paris, and New York were also offered one-year placements within an LVMH house of their choice. Peter Do from FIT opted for Celine with Phoebe Philo. 
Juror Humberto Leon said that although the decision-making process, which had to be done in just a few hours today, was difficult, all of the finalists will benefit from the process. "Even the ten people who didn't win have an 'in' with LVMH; they already have a dialogue happening."
The Cut caught up with Tait just after the announcement was made.
Congratulations! How are you feeling?
Shocked! It's a bit like — Oh God, this is actually happening! The applications were first handed in in January, so it's been months since we started this adventure. The last two days have gone really quickly, though.
So what was the process like today?
Today we had fittings, and so on, and we stood in our booths while everyone came to see us, just in an informal way. Once that was done we had to go and present to the jury in a private room with two models wearing our garments, and we had five minutes to speak about our work and our ambitions and five minutes to answer their questions. Obviously the talking in front of the judges was intimidating.
Had you met any of the judges previously?
Yes, most of them I had already met, and then again earlier today. They were all really engaged and interested.
Is there a member of the jury whose work or career appeals to you most?
All of them have had an impact on me in a different way. I am definitely a big fan of Raf — what he's done with his own label and now Dior. They all mean different things to me, though.
What did you say in your presentation?
There were a few things, because there's obviously a large amount of money and a huge endorsement that comes with it, so they want to know what you are strategically going to do with the money and the mentorship. So obviously I am going to continue with my brand, step by step, every season. But there are things that are a priority, like facilitating production because not all stores prepay and it's difficult to manage overheads.
How many do you have in your team at the moment?
Just one full-time staff member and me.
What kind of questions did they ask you?
There weren't that many. I got a nice comment from Karl about my illustrative work and Raf was very involved; he was making comments and asking questions about how I felt with regards to my work as a creative person, and how I felt moving into the industry on a broader scale and engaging in a commercial market. Because what I do is still small and I exist in my own bubble.
So what is your long-term plan?
I would definitely like to move into accessories — handbags and leather goods. Shoes are something I already do, but I haven't had the capacity to produce or sell them. And I definitely want to look into doing something in the distant future with skin care. Menswear is not so much of an emergency for me. I think if I were to do something, it would be on a different level — like activewear, not fashion.
And what about short term, how will you celebrate tonight?
I've got some of my best friends in town with me and I'm going to take them out to dinner and drinks.