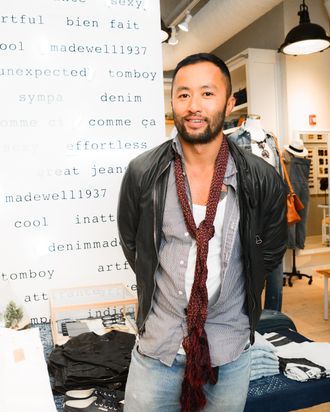 Photo: Carly Erickson/BFAnyc.com
Madewell has been expanding quite a bit in recent months, and last night they opened a store on the Upper East Side, joining the influx of cool brands that have recently made it to the neighborhood (Warby Parker, Sandro, et al.). We caught up with the store's head of design, Somsack Sikhounmuong, for a chat about all things 10021.

What was the process of working on the spring 2014 collection like? What are some of your favorite pieces from the line and why?
I work with a great team, and it's always a collaborative process. Spring was travel-focused. We designed the idea of the perfect suitcase and what it looks like before and after a trip. When you leave, you pack your favorite things: a great pair of jeans, your favorite tee, a leather jacket, and your must-have tote. Then after your trip you see what your suitcase looks like. It's all the favorites you took with you plus all the amazing things you picked up on your travels: a souvenir tee from Paris, something embroidered from Mexico, and a tie-dye scarf from Tokyo.
Speaking of travel, where have you been recently, and have the travels served as inspiration for your designs?
I just got back from a store opening in Portland (the nicest people and pretty stylish) — and Arizona. I visited Taliesin West, Frank Lloyd Wright's house out in Scottsdale, and was blown away by the amazing colors, juxtaposition of materials, and overall design philosophy.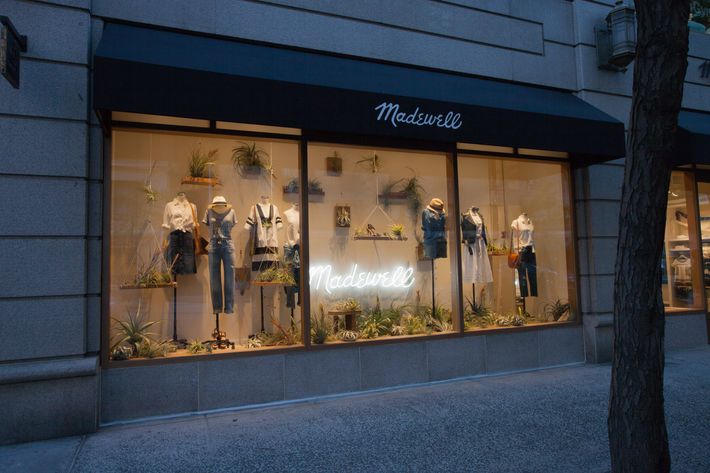 How do the women on your team dress, and do you ever draw inspiration from their outfits?
I'm very fortunate to work with such a talented and well-dressed bunch of ladies. It's not so much a particular outfit, but the attitude they wear their outfits with. It's a laid-back mix of tomboy/pretty/never-trying-too-hard attitude that's so inspiring.
 
What do you like about the Upper East Side? Do you hang out in the neighborhood at all? Why do you think it's become such a popular spot for cool retailers recently?
There are so many things I love about the UES. If you find me up here, I'm either heading to the Met or Guggenheim or leaving the Central Park Zoo. (The seal tank is kind of magical!) Madison Avenue is a shopper's heaven. We have some amazing customers who live up here, and we wanted to save them the trip downtown — give them the in-store experience, which is so important. It's hard to try on jeans online!
This interview has been edited and condensed.