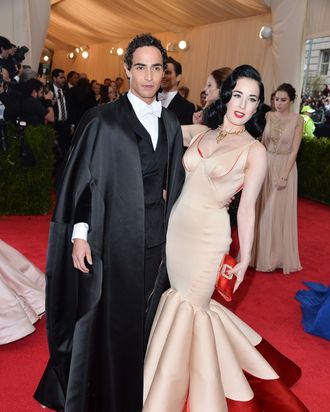 Photo: George Pimentel/Getty Images
Last night's Met Ball was principally an evening for gowns — that is, until Zac Posen appeared in an oversize black silk satin duchesse cape, specially made for him by American couturier Ralph Rucci. "I asked Mr. Ralph Rucci to make me a couture piece for this evening," Posen told the Cut last night. "It was an incredible couture fitting process. He was incredibly kind and generous and wonderful and got excited by the process."
"I went to a fitting as if I was a client and I was a woman," Posen said of the numerous sketches, fittings, toiles, and stitches meticulously prepared in Rucci's New York atelier.
Posen wasn't the only one getting a helping hand from a fellow designer last night: Calvin Klein got one from Ralph Lauren on his ensemble, as he told us on the red carpet. Said Posen, "It's a very rare thing for designers in [this] day and age to be able to collaborate, and work with people who appreciate craft and construction. The back was really inspired by [Charles] James. It is very similar to an ivory dress that is in the exhibition tonight."  

Rucci has previously designed pieces for André Leon Talley, but has not otherwise dabbled in menswear. "Ralph is not becoming a menswear designer," said Rucci spokeswoman Katie Goldsmith. "But I could certainly see them working together again." For now, Rucci has agreed to design for Posen's partner Christopher Niquet, and, after all, three is a trend.