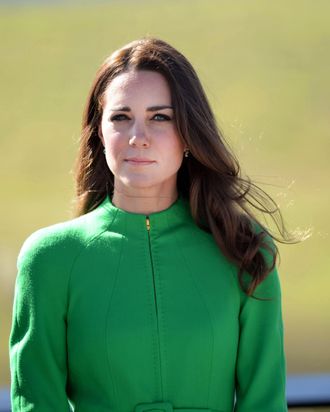 Photo: Samir Hussein/WireImage
Earlier this year, at the end of a bitterly cold February, we hurled normcore into the internet. The internet tried to figure out what it was. At first, there were many questions; now, those questions have resolved themselves into assorted conjectures.
What has normcore wrought? Two months later, an incomplete catalogue of responses:
There is avant-normcore, which is fancy, and hardcore-normcore, which I don't understand. Amanda Marcotte says it should be called brokecore. For those that care to actively eschew normcore, a DJ/programmer created a Chrome extension that will redact the word normcore from your internet browsing.
Vice called normcore a meme.
But it's real! cried Simon Doonan.
There was some confusion about whether our bodies just create normcore on their own, if left to their own devices. For example, Katy Waldman at Slate wrote that wearing no makeup was normcore. Salon proposed that cleavage normcore was not wearing a bra. Pubes went normcore (it's called the full-bush Brazilian). Hanes declared they were normcore, before normcore. 
Vogue had all sorts of thoughts; for example, they announced the counter-normcore existence of florcore (floral-patterned things). Vogue also, confusedly, declared that Kate Middleton is the Duchess of Normcore. (The Telegraph called Prince William normcore, and they can have that.) Vogue U.K. astutely cited a William Gibson character in Pattern Recognition who hates labels except Fruit of the Loom.
Town & Country listed their version of normcore OGs: Carolyn Bessette, Lauren Hutton, and Isabella Rossellini.

Vox answered a limited number of questions about normcore, prompting Gothamist to help explain their explainer. You can take a BuzzFeed quiz about how normcore you are. You can take another quiz called "Are You Normcore or My Dad?" The New York Times provided a slideshow to help you spot the difference between normcore and fauxcore all on your lonesome.
Bon Appétit named a variety of normcore food items. It was an April Fools' Day joke, but they were mostly correct: Pinkberry, chips and salsa, bottled water, bread bowls. When nymag.com went down for an afternoon, that was also pretty normcore.
Alain de Botton said normcore is about the long-standing human tradition of pursing the ideal:
Normcore is the search for the ideal. The perfect t-shirt, like the perfect pencil or table, doesn't need to be constantly updated because it has latched on to the essence of what it's trying to do. Humans like one-off ideals: one god, one partner . . . we are quite monotheistic. That urge sometimes washes over into clothes: one type of t-shirt. The ultimate example of this is the uniform. The better the design, the less it needs to change.
Alexa Chung called it offensive and wondered why people are always trying to, like, label her and her friends. What she said is a real treat:
It's the most offensive thing … I am into it but I didn't recognize it as a category of dressing, it's just how people dress, but I know friends of mine that were included in the first article who were quite outraged by that. It's weird when you're just existing and people outside it gather you up and take away any unique vibe you thought you had. They're like, 'It's a trend' and you're like, 'What? No, I just exist.'
There you have it: Alexa Chung just exists. Normcore continues onward.