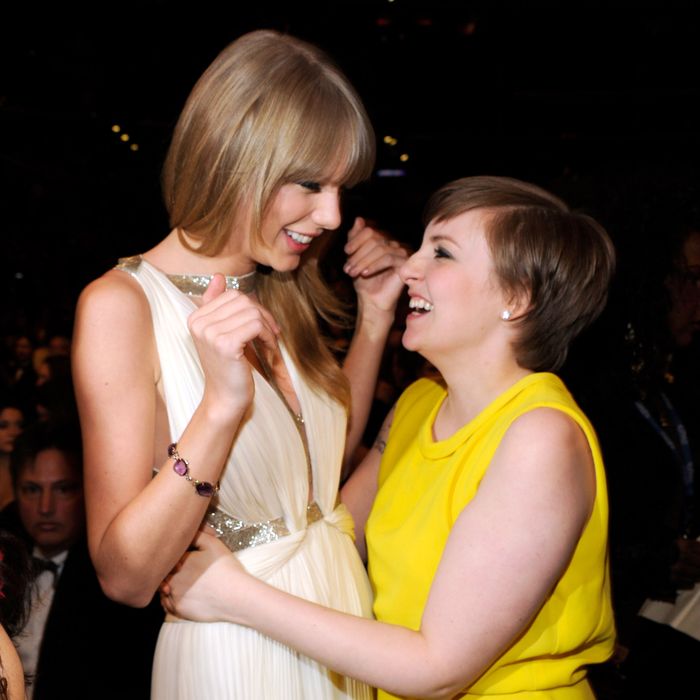 Photo: Kevin Mazur/WireImage
A recent U.K. survey of Twitter misogyny by the think tank Demos came to a surprising conclusion. "Women are almost as likely to use 'slut', 'whore' and 'rape', both casually and offensively, as men," group research director Carl Miller reported in Wired, aghast. His findings were less surprising for those familiar with the genre of study that finds women are behind their gender's misery often for evolutionary-based reasons beyond their control. I've come to think of these as "Mean Girls" studies, because they remind me of what Tina Fey's character tells her female students at the end of the movie: By calling each other sluts, they give guys permission to call them that. The implication, here, is that women are in part responsible for the perpetuation of sexism. Never mind that it's still only women who get called sluts. Maybe those sluts will get ahead once they stop being so catty to one another.
I'm wary of any sexism fix that is so quick to let men off the hook for a power dynamic that largely benefits them. But Taylor Swift, of all people, makes a very good case for the power of sisterhood in the face of slut-shaming.
Coincidentally, Fey seems to have set that in motion when she teased Swift about her ex-boyfriends at the Golden Globes. In response, Swift told Vanity Fair there was a special place in hell for women who don't help other women. At the time, we teased Swift for misattributing the quote to Katie Couric; but lately, it seems like she's onto something.
Take Lorde. When the Cut talked to Lorde a year ago, she cast herself as an alternative to boy-crazy Taylor Swift. Then she called Selena Gomez's sexually compliant "Come and Get It" "so pathetic." She reminded me a lot of myself at the same age — when I realized that being a girl sucked sometimes, and convinced myself the problem was other girls, and I just got along better with guys. If only I'd had a Taylor Swift to set me straight.
After further slamming Swift for perpetuating an unattainable beauty standard, Lorde publicly apologized to Swift on Tumblr, and the two buried the hatchet at Shake Shack in New York City. Or so Swift conveyed in her birthday party Instagrams, which featured Lorde prominently. (She was an early practitioner of Instagram PR.) Since then, Lorde's ceased to smack-talk other women and hung out with Tavi.
Is forging individual alliances the only solution to slut-shaming? Part of the problem, I think, is that we just don't have a large vocabulary for evaluating women other than to say they are sexually attractive or slutty or have a cool boyfriend. What this says about women is even bleaker than the girl-on-girl slut-shaming: Our most important function in society is still our relationship to men.
It was certainly the case for Taylor Swift. Her roster of ex-boyfriends hijacked several album's press cycles with speculation over which songs were about which boyfriends, and the tabloids regularly pitted Swift against her exes' other girlfriends. You could argue that, with her confessional songwriting and coded liner notes, Swift capitalized shrewdly on our disproportionate interest in women's relationships to men — in which case, more power to her. Regardless, she might be the most high-profile case study in the social conditions that make women internalize misogyny and slut-shame one another: The notion that women are first and foremost competitors for male affection.
If that changes anytime soon, I think Swift will deserve some credit. In the past year, she hasn't made a single public appearance with a guy, opting instead for high-profile dinner dates and vacations with other young, female celebrities: Selena Gomez, Hailee Steinfeld, Karlie Kloss, Lena Dunham. What's really radical about this is that celebrity news outlets have been compelled to cover Swift's BFFships with the same granular diligence they did her romantic relationships with men, no cryptic song lyrics required. The message, if media choreographed, is clear: There is a world outside of what men and what they think of you, and it is great. There are parties and fashion tips and road trips and matching preppy outfits that you swear you didn't plan. Who would risk all that just to call another girl a slut?