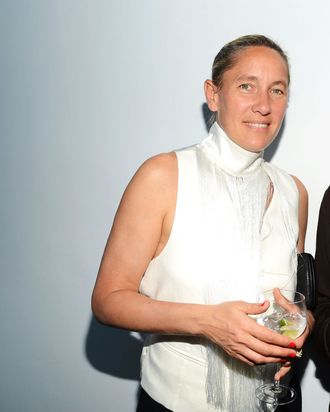 Alexandra Senes is a French journalist and creative director. She was the editor-in-chief of Jalouse magazine for eight years, and has written for everyone from Le Monde to Elle to Air France magazine, and consulted for everyone from Hermès to Le Bon Marché.  She is the author of Le Paris de Tout Paris, for which she interviewed 100 Parisians, and she served as editor-in-chief of an as-yet-unpublished French edition of Harper's Bazaar. Right now she is editor of another "top-secret publishing project." As part of our ongoing conversation series between Parisians and their New York counterparts, New York Magazine fashion director Amy Larocca talked with Senes about what it's like to be a fashion editor in France. 
Do French editors dress much differently from American editors?
French editors invent. French editors push the young génération. French editors play a lot — less then the English — with volumes, ideas, prints. And we want so much to keep our Parisian style that sometimes … well, it's like this. I have a friend who had her kids in the same school as Vanessa Paradis in Los Angeles. She always said to me, "Really? Vanessa Paradis is famous in France? But she is so dirty!"
I think you can sometimes say this about the French editors. No manicure, no hairdo … we have an attitude of wearing Chanel where maybe you would not recognize a Chanel vest because it is given a twist. We do not have that really clean American look. The American editor is going to look really sharp and chic — like a businesswoman more than like a crazy fashion addict.  And if Céline is really big in America suddenly, they're all going to be in Céline, but for us, maybe we're going to have one piece of Céline. And the American editors, you could have four different editors from four different magazines dressed in the same style. Us, maybe you can recognize the Vogue team, the Biba team, the Elle team, because they really start to look like families. They love the same things. At [French] Vogue they are all skinny with their hair undone and wearing all-black mixes of Isabel Marant, Balenciaga, and Saint Laurent, and at Elle they are more a mixture of ages and different types of women, maybe this is more like their readers. They all wear Vanessa Bruno and Christophe Lemaire and maybe that one key piece of Céline.
Do you think that's because American fashion is more of a business than French fashion?
No, I think in France we are really starting to understand the business — look at what is happening with LVMH and Kering. Just look at the politics involved in the hiring of Hedi Slimane. We understand all of this, but when I see what Marc Jacobs did for his last show at Vuitton — he did all black, he did his own funeral with the money of this company — I think it's great. In Paris it is more craftsmanship-oriented. In the U.S., it can feel like you're already in the shop.
And what's the difference with the clothes?
Sometimes in New York I feel that it's already about the styling — for example, I loved the Michael Kors show last season because I understood it immediately. It was like a fashion shoot and suddenly; I wanted to be this woman. I liked it. It's easy to understand because he builds a whole story and you get it and you can be a Michael Kors woman that season. It's done to be shot in a magazine immediately. I don't have this feeling when I see, say, Alber Elbaz's Lanvin. Yes, he does the big happy necklace that is done to be on the cover of Vogue, but then the whole story is of him.
Why do you think Parisians get to be more free?
There is a big difference in terms of power between French and American editors. The editor of French Vogue has less impact on the market, while the editor of American Vogue has a lot. Here we buy magazines for inspiration. American magazines are printed in the millions, here we do maybe 100,000 copies, so the impact is different, of course. When Suzy Menkes gave a designer a bad review, it could make an impact on sales. Here I don't think this would be the case. The "starification" of Carine Roitfeld came directly through American bloggers. This phenomenon is very recent in the French press.
I sometimes feel like Paris takes Fashion Week more seriously — the collections are often the lead story on the evening news, which would never happen here.
Once I was hired to write about my week during Fashion Week in Paris. Every day I skipped one show and went somewhere else. I skipped Stella McCartney and went to the ballet at the Chaillot Theater. It was full, and I don't think anyone in there realized it was Fashion Week. Another day I went to the agricultural fair, which is a very important annual event here. I realized that we Parisian ladies are pretentious enough to think that Fashion Week is the most important event going on. I wrote about my experience in the paper. I hadn't done my job because I didn't talk about dresses and clothes as I should have done, but it made them laugh, and they published it!
But still it is Paris. We are the only ones able to create desire and emotion. It must be that there are sediments of different times in the air of Paris. One must not forget that we are in the home of Christian Dior and Coco Chanel.