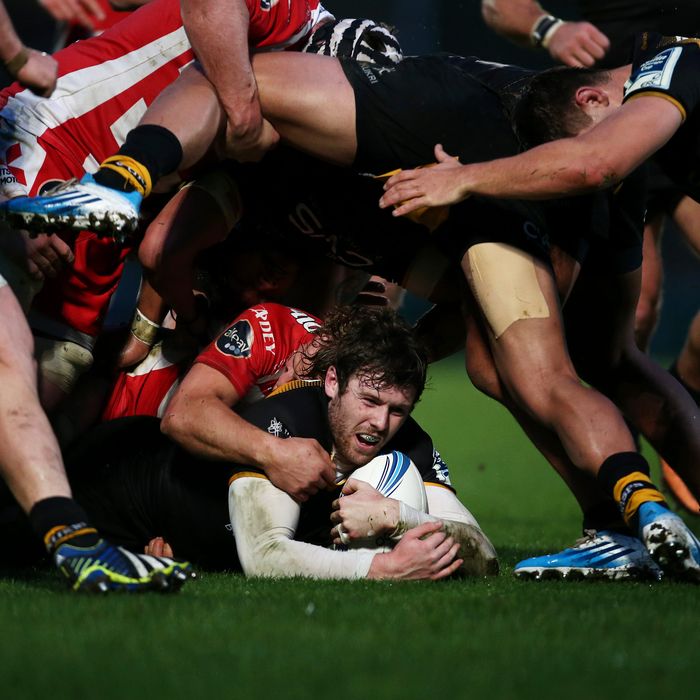 Photo: Jordan Mansfield/Getty Images
A recent found study that 97.5 percent of heterosexual male college athletes haveshared a bed with another man, and 93.5 percent had spooned their bro. Well, 97.5 and 93.5 percent of guys in this one sports sociology class in the U.K., anyway.
In the grand tradition of The History Boys and One Direction (and to my immense personal satisfaction), 37 of 40 straight men recruited by Winchester University sociologist Eric Anderson reported that they had at one point cuddled—here defined as "gentle physical contact for a prolonged period of time"—with another guy. It's a known hangover cure, according to a study excerpt in The New Republic.
"On the morning following a night out clubbing, the friends will congregate at one house, where they watch TV, play video games. … These activities would include frequent cuddling, which Max described as ''feeling good,'' adding, ''If your mate has a headache you can like massage his head, or you just lie there together holding each other and laughing about how awful you feel.''
Another student, Jarrett, loves cuddling so much he could not stop saying the word "cuddle."
Without being prompted, Jarrett repeatedly stressed the amount of cuddling he and his mates engage in. 'We're always cuddling, my lot. We're all comfortable with each other.' Others highlight that cuddling occurs during the day and will often be described as 'a quick cuddle.' John praised these short interactions, saying 'I love a quick cuddle, just so you remember your friends are about and are there for you.'   
The researchers argue that "the expansion of esteemed homosocial behaviors for heterosexual men is evidence of an expansion of changing conceptions of masculinity in contemporary culture." For me, it raises a chicken-and-egg question. Are U.K. bros more physically affectionate than their U.S. counterparts because they call each other "mate" or do they call each other "mate" because they treat one another as tenderly as the U.S.'s sappiest boyfriends?