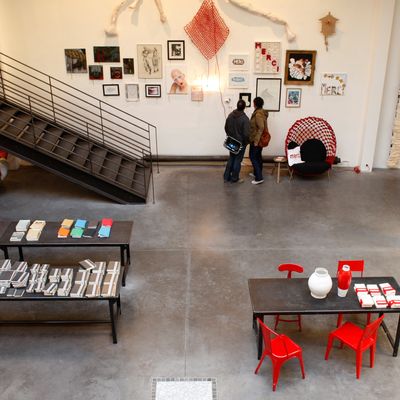 Photo: Benoit Tessier/REuters/Corbis
Recently, the concept store Colette on the rue St.-Honoré, which has an expensive "water bar" and sells €985 clocks, became the object of schadenfreude-y ridicule when it was reported that shotgun- and ax-wielding thieves busted out of the place with around $825,000 in watches. Le Petit Journal, France's equivalent of Jon Stewart and Stephen Colbert, joked that the robbers argued about which designer gloves to wear, and college students sold T-shirts that read "I ROBBED COLETTE." It was easy to understand the jeers; in a country with a 25-percent youth-unemployment rate, among the cheapest items at Colette are $34 stickers. For those seeking places to shop where you can find cool, new fashion at reasonable (well, to varying degrees) prices, here's a bunch, recommended by real Parisians:
The Broken Arm, 12 rue Perrée
With a name that pays homage to Duchamp, this Marais concept store, opened last year, epitomizes an aesthetic that has swept Paris as more young people travel to Berlin, Brooklyn, and East London: It's all clean white space and unfinished light-wood, mid-century schoolroom chairs in a café that serves barista-level coffee (from Norway), seasonal sandwiches, and desserts like poppyseed cake and a much-loved purple-ombré cheesecake. Then there's the store: a quirky, colorful collection of the founders' favorite designers, including Carven, 3.1 Phillip Lim, Raf Simons, Marni, and Kenzo , plus lesser-known labels like Jacquemus and the colorful-print menswear Études. They've even got their own house fragrance. It's definitely one of the cool stores of the moment, where fashion folk gather daily for light lunch, coffee, or tea.

Merci
111 Boulevard Beaumarchais
The concept store that combines the rustic feel of an Anthropologie, the everything-you-need practicality of Ikea and the do-gooder eclecticism of France's beloved Emmaus charity-thrift chain, Merci, has become the kinder, gentler Colette among Paris's bobo and trendy-expat set since its 2009 arrival in the Marais. The offerings — in fashion, homewares, furniture, and more — lean toward the artisanal and organic, and profits go to charities in Madagascar. In a series of sprawling, loftlike levels that once made up a wallpaper factory, you can browse all day and come away with everything from velvet trousers ($200) to a set of four classic French industrial Tolix chairs ($1,048) to a handful of old tomes for sale in the charming used-book café. Merci is now carrying an updated, slimmed-down line of Vétra, the classic French workman's clothing that has attained the same heritage status among French bobos that Carhartt and Red Wing have in New York.

COS, various locations
The secret to that minimal, monochrome chic you seem to see on so many Parisians? It's actually COS, a chain of stores (by the same group that owns H&M) offering an impeccably curated wardrobe of pieces in the $50–$200 range. (A few stores are coming to the U.S. imminently.) In an era where everyday New Yorkers and Parisians largely shop at the same megastores, such as H&M and Uniqlo, for affordable basics, COS represents a leg up for our French counterparts — but not for long, it appears!

& Other Stories, 277 rue Saint-Honoré
Also from the H&M group, this store — the first in Paris and for women only — is like the COS of cosmetics, shoes, and accessories: smartly on-trend and far better quality than H&M but still affordable. There was a line of chic Parisians stretching down the street waiting to get in when it opened last year. It's in a beautiful, airy space with a central courtyard. (P.S.: If Colette is one of your shopping destinations anyway — et pourquoi pas — & Other Stories and Vika Gazinskaya have collaborated on these lovely, and lovingly priced, clothes, available there as well.)

Cheap Monday, 121 rue Vieille du Temple
This cool, young Swedish brand, adored by European hipsters but barely available in the U.S. outside of stores like Barneys, has finally come to Paris. Jeans, sweats, and droopy T-shirts for men and women are usually priced below $100.
Le Jupon Rouge, 12 rue Mayran
Vintage and thrift pieces occupy a higher realm in Paris, where women know how to pair them with simple contemporary items — think a monochrome A-line dress from COS with a graphic '70s scarf you found for €10 à la fripe, or while thrifting. This is one of the better-curated ones, in the understatedly cool 9th Arrondissement — and just a stone's throw from Avenue des Martyrs, where many more friperies await you.