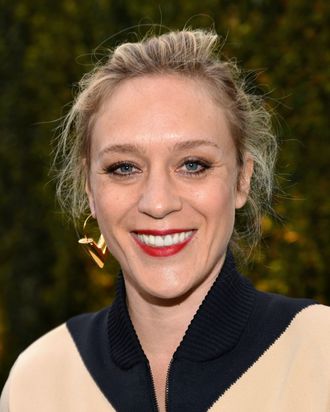 Photo: Michael Buckner/Getty Images
Whit Stillman, master of comedies of manners, is swift to point out my lack of them. Or fucking lack of them. "You use the F-word a lot, you know that?" he asked when I pointed out the growing French Diaspora in Williamsburg.
Stillman, an exceedingly young 62 with slicked-over hair, crisp white shirt, and folded silver spectacles in his jacket breast pocket, is in a West Village café taking a break from editing The Cosmopolitans, an Amazon productions pilot that just might become a series. It is slated to air later this summer at a date TBA. He wrote it, and it fits right in with his American expat oeuvre.
"It's supposed to be open-ended so people want more episodes," he says. "But I think it works fine — that if this is the only thing we get to do, it will be nice. It's sort of Metropolitan meets Barcelona in Paris." He looks at his brunch partner and adds, "With some Last Days of Disco thrown in."
"Sprinkled!" says Chloë Sevigny, who starred in that 1998 Stillman film.
She looks sporty-chic in an oversize hunter-green Lacoste shirt tucked into a pleated tennis skirt and chunky gold watch. Her house in Park Slope is under construction, so she spent the night at her brother's in the East Village. Her relationship with the director was rekindled when they did the commentary soundtrack for Disco. They already have another project in development, a Jane Austen pastiche called Love and Friendship, which will also star Sienna Miller.
"There were so many script changes at the last moment," Stillman says of The Cosmopolitans. "Chloë was wearing a very fashionable gold coat — we called her Vicky Gold Coat. Her last name will be changing. She's this glamorous, very cool character who we will be seeing more of."
"This is the most glamorous character I've ever played," Sevigny says. "Finally! After twentysomething years in the business. I think I'm a fashion journalist perhaps, huh?"
Further details about The Cosmopolitans are top secret, but it also features Adam Brody, Dree Hemingway, and Carrie MacLemore who was in Stillman's last feature, 2012's Damsels in Distress. In part, it deals with American infiltration of the haute bourgeoisie.
"You can be an American or an Englishman or Canadian and be a Parisian," says Stillman. "It's a very admirable culture, and people want to identify with it. They don't want to be an American leaving steps in the sand that will be washed away in ten seconds." They filmed in Paris over nine days in April.
"It was very civilized," Sevigny says. "Lunches were fantastic — really good catering. It was delicious. The crew works less hours, too. They're more excited to be at work and about the art."
Sevigny and Stillman both have deep affinities for Paris. Stillman lived there for three years with his then-wife and two daughters. The weekend Last Days of Disco came out, they lost their Soho loft and decamped to France.
"This and Metropolitan are the most based on my real life," Stillman says. He speaks French with a great accent and took classes at Alliance Francaise and Berlitz. "I thought knowing Spanish would be an advantage," he says, "but they hate the Spanish accent and said, 'You speak French like Zorro.'"
His apartment was on Île Saint-Louis. "Why did I move back?" he asks. "Starvation? I thought I could have a career by taking the Eurostar to London and that worked getting script commissions …" he trails off.
He delved into the literary accounts of Americans in the City of Light; F. Scott Fitzgerald's short story is a favorite. "'Babylon Revisited' is a really good sad story about a family, a relationship with a daughter. It was made into a strange movie. Moveable Feast was very good. It's libelous and slanderous and quite not true."
He also appreciated how Bloody Marys were mixed tableside. "The best cocktail is the French 75," he says. "It's from World War I, and it is gin, Champagne, and something else."
He also appreciated the American specialty shops that sold products like Fruit Loops and marshmallow cream.
"I love them," he says. "Particularly if you have kids — they want peanut butter. And you can get pecan pies and Clamato juice. That's the Anglos-in-Paris thing — at a certain point you want bacon and eggs for breakfast."
Sevigny went to Paris for the first time with the earnings she made from her debut, Larry Clark's Kids. "It was my first time to leave the country," she says. She has been four times already this year.
In Paris she loves going to fancy dinners at restaurants like Caviar Kaspia in the 8th, and shopping.
"I love the vintage store Come on Eileen," she says. "They have inexpensive Gaultier and Alaïa, not like Resurrection prices."
She has a local posse. "Olivier Zahm, some other friends and filmmakers, Olivier Assayas. I ran into Claire Denis the last time I was there. We like to meet up. There are people in film and fashion I like to see over and over."
She worked with Assayas in the 2002 film Demonlover, where she convincingly spoke French without knowing it.
"I studied with a doctor in Paris," she says. "He works with children with speech impediments and opera singers. He teaches your ear how to hear certain sounds. I would listen for hours on headphones to French children singing nursery rhymes." That must have been creepy.
"When I was shooting," she says, "I stayed in St. Germain. I stayed at L'Hôtel, where Oscar Wilde died. But I was quite young, and I found it a little stuffy and Upper East Side, so I wish I had been in the Marais." The cast and crew stayed in Trocadero for The Cosmopolitans.
There is also of course Rue de Sévigné in the Marais (a scene of The Cosmopolitans was shot there). The spelling differs, but pals send her pics of the street sign. It would be funny if she took a selfie under it. "I don't take selfies," says Sevigny firmly.