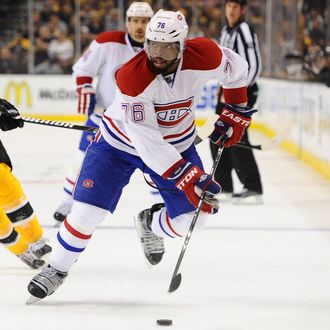 Photo: Brian Babineau/NHLI via Getty Images
Back on May 1, the Boston Bruins lost Game 1 of their NHL playoff series against the Montreal Canadiens when Canadiens defenseman P.K. Subban, who is black, scored a game-winning goal in double overtime. This was met with racist tweets from disappointed fans, which in turn generated disapproving write-ups that did not make Boston look very good: Some outlets reported that Subban's name was tweeted in conjunction with the N-word 17,000 times in the aftermath of the game, and that the N-word was a trending Twitter topic in Boston immediately following the game. The story was enough of a flap that members of the Bruins' top brass publicly apologized. Fueling a lot of the outrage, of course, was the notion that Boston is a deeply racist city.
But on Boston.com, Bill Speros, a.k.a. Obnoxious Boston Fan, has an interesting post debunking the notion that this can tell us anything about racism in Boston. Using data from digital analyst Trevor Choleva, who works at an analytics firm called Crimson Hexagon, OBF argues that "that there were 288 Tweets [give or take one] that used the 'n-word' and Subban's name in a racist and derogatory manner after Game 1," that the 17,000 figure is wildly inflated, the trending-topic rumor was false, and that only a tiny proportion of the offensive tweets can be linked definitively to Boston. (I should say that I, like Speros and Choleva, am a Boston fan, and that I haven't seen the raw data on which these claims are based, but that there's nothing particularly suspicious about them.)
So if actual, bona fide racist reaction to Subban's goal was more whisper than roar, why did this become such a big story? A lot of it has to do with stereotypes about Boston. This is classic internet-fueled confirmation bias — when you're presented with evidence that "proves" something you already knew or suspected, you're a lot more likely to believe it and to pass it on. The online world, where "passing it on" often means a single click, is an ideal breeding ground for this sort of false information. Of course Boston fans reacted like Neanderthals to this — they're racist!
None of this is to say that Boston doesn't have an extremely ugly history of racism that lingers in many ways, of course — if a Pulitzer-winning photograph of a white guy attacking a black guy with an American flag was shot in your city, that's probably a decent indicator that it hasn't been a bastion of tolerance. But whenever an incident like this occurs in which Twitter and other social media outlets promote false rumors to the status of Obvious Truths, it's useful to do this sort of debriefing.