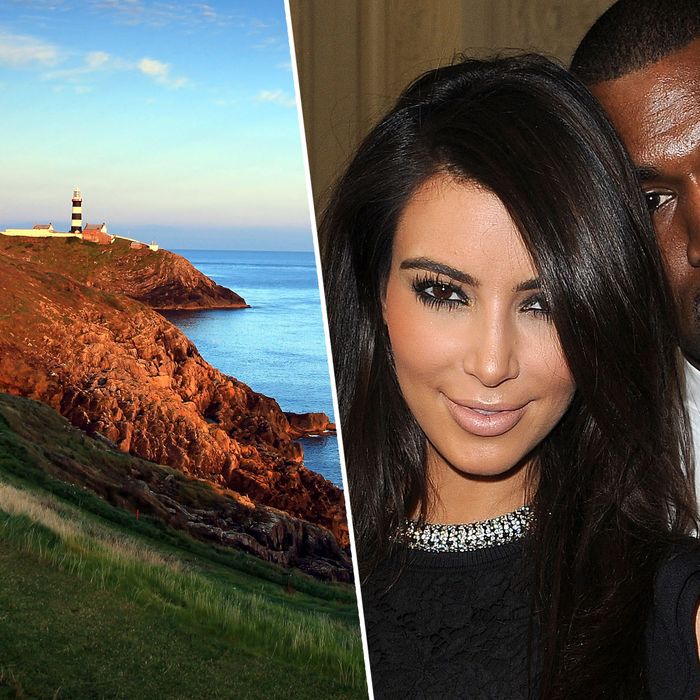 After their much-anticipated, much-Instagrammed, extremely fancy wedding, Kim Kardashian and Kanye West are now on their honeymoon in Cork, Ireland. So, what exactly does that mean? And what can they expect?
At first glance, the green fields and muggy drizzle on the 30-minute drive from Cork Airport to Castlemartyr — the Downton Abbey-esque resort where the pair are staying — will cleave to most Americans' stereotypes of the country. But Cork is hardly the Ireland of The Quiet Man or Leap Year, or even of The Commitments or U2.
First of all, nobody speaks in the stereotypical "brogue": The Cork lilt has been likened to a Jamaican patois. And ordering a Guinness will likely draw hostile glares from other drinkers, with Cork-brewed Beamish and Murphy's being the local dark beers of choice.
The natives tend to regard themselves as Corkonian first, Irish second. In fact, Cork is known for a defiant streak that seems right in line with Kanye's own sensibilities. Ireland's largest county likes to see itself as existing apart from the rest of Ireland — a miniature Catalonia or Texas that, if it came to it, could probably make a go of things on its own. That's why, walking through Cork City (20 miles from Castlemartyr) you may see bars bedecked with Catalan and Basque flags. It's also why — until people acknowledged its racist connotations — supporters of Cork's major sports teams sometimes flew the Confederate flag.
Cork is proud to be known as the "Rebel County," a sobriquet with deep historical roots. During Ireland's struggle for independence in the 1920s, the region saw brutal fighting with British forces (a period recounted in Ken Loach's The Wind That Shakes the Barley). Today it is often referred to as the "People's Republic."
This isn't Kanye's first time in Cork. He headlined a music festival in 2009, afterward making a surprise cameo at a club gig played by friends N.A.S.A. And, for what it's worth, celebrities are not totally a novelty: Tori Amos, Jeremy Irons, and Ralph Fiennes all have connections to the area. For a sleepy village with one fast-food restaurant and three pubs, the town of Castlemartyr itself has welcomed a surprising number of international figures. Bill Clinton stayed at the resort in 2012; and in 1995, Johnny Depp and Marlon Brando passed several weeks in East Cork, shooting an ill-fated comedy called Divine Rapture in the seaside town of Ballycotton (only a few scenes had been filmed when financing collapsed). Local lore holds that Depp went largely unrecognized, drinking beers and mingling with the locals. That was long before Cork had five-star resorts, though, and long before Instagram and Twitter. The same low-key anonymity seems unlikely for the #worldsmosttalkedaboutcouple.