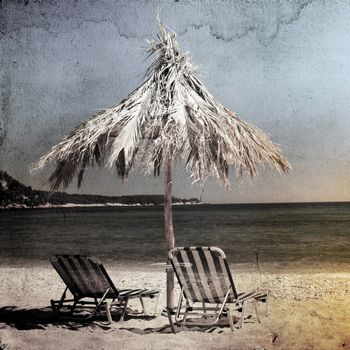 So: Memorial Day is fast approaching. Ideally, a long weekend lies ahead; perhaps you've even wrangled yourself an extended vacation. Well done, and no doubt well deserved! Just one thing: Don't expect the effects to last.
Perhaps one of the most depressing findings in social science (and yes, it's been replicated many times over) is that the glorious, sunshiny glow we acquire during a holiday tends to fade with astonishing rapidity. In fact, even during vacations, our enjoyment tends to peak between 40 and 70 percent of the way in, much in the same way that our weekends feel best between Saturday afternoon and Sunday brunch; after that, it all starts to feel like borrowed time, bittersweet.
The work of one psychologist, Jessica de Bloom, who's done lots of research in the Netherlands, is particularly comprehensive — and well designed. Unlike most other researchers, who check in with their subjects at just two intervals after their vacations (three days later, and then several weeks later), she follows up with her participants much more frequently. And here, in a nub, is what she's found: Within a week of returning to work, the salubrious effects have faded entirely. 
"Most vacations," she and her colleagues bluntly write in a study from last year, "seem to have strong, but rather short-lived effects." (A subheading from another one of her papers, this one from 2010: "Lots of Fun, Quickly Gone.")
De Bloom has found this result with remarkable consistency. It appears to be true whether we take long holidays or short ones; it doesn't matter if we take winter breaks and do winter things or take summer breaks and do summer things. (Interesting side note, however: In her 2013 paper, the participants who "did nothing" — as opposed to those who engaged in physical activities — enjoyed longer-lasting post-vacation effects. Couch potatoes, therefore, should rejoice. You are clearly onto something.)
These results are based on averages, of course (among other things, de Bloom uses sleep diaries and questionnaires about well-being; other researchers in the field also rely on "burnout scales" and subjective accounts of their own pain). But if one breaks down how individual people experience their vacations, the results, in some ways, are even more sobering. In a different Dutch study from 2010, a quartet of researchers concluded that only a "very relaxed" vacation sustained their participants' happiness after they returned, yet only one third of their vacationing sample had a "very relaxed" trip in the first place. (Which makes sense, really: How many vacations disappoint or go awry or come off merely as nice, rather than stupendous? More than we'd care to admit.) And the after-effects were still brief.
In a few scattered cases, other researchers have found evidence of the vacation fade out ("fade out" being the term of art here) within an even shorter frame of time than one week. In Israel, for instance, one team of researchers, looking at a batch of clerks from an electronics firm, found that their levels of burnout had crept part of the way back up by day three after their summer vacations. On the other hand, there've been encouraging exceptions. A trio of researchers from Austria, when sampling a group of men and women who worked for the same aluminum hardware manufacturer, found that they had significantly fewer physical complaints even five weeks after their vacation was over.
But perhaps the most startling data point to emerge from this study—and others like it, all with decent sample sizes—is that people who take vacations aren't any happier, or are only barely so, than those who do.
So why take vacations at all? Several reasons: First of all, our happiness often increases before vacations too, and that's no small thing—never underestimate the hedonic power of anticipation. The positive memories from vacation also seem to occupy disproportionately large tracts of real estate in our minds, even if we weren't enjoying our holidays at every moment in real time—and who are we, if not the sum of our most cherished memories?
But perhaps more to the point, our bodies appear to crave a respite from real life. While on vacation, we sleep more (about three quarters of an hour extra per night) and better; there's also good evidence that they reduce our risk of cardiovascular disease and generally improve our long-term health. As de Bloom and her co-authors say in their 2013 paper, "Asking why we should keep going on vacations is therefore comparable to asking why we should go to sleep considering the fact that we get tired again." Our bodies need them, simple as that. That's a sobering consideration, particularly here in the United States, where we and we alone have no national vacation policy, at least among industrialized nations (which is why pretty much every study on this subject uses European data sets.) The health benefits alone should be reason enough.