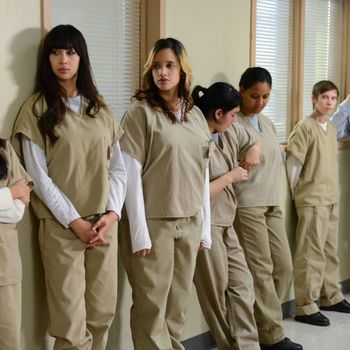 Photo: Ali Goldstein/Courtesy of Netflix
It may seem that Orange Is the New Black would be a show without hair or makeup — since, well, how much do you need in prison? — but creating beauty looks on the hit show, which returned to Netflix last Friday, is actually a complex art.
Angel De Angelis and Michal Bigger, who lead OITNB's hair and makeup teams, respectively, say they had to forget everything they knew in order to transform the show's 60 principal characters into prison inmates. Turning a beautiful young actress into a meth-head, for example, is a lot harder than it looks. "We are just doing terrible things to these people!" Bigger told the Cut. "And all the time we see things written about how there's no makeup on the show. It is so far from the truth."
It takes some nice products to make everyone look so horrible, though; you definitely won't find this stuff in the average prison commissary. Bigger swears by Dolce & Gabbana's Perfect Matte Liquid Foundation, which she says is sheer enough to not look like the actresses are wearing any makeup, but that could also serve to both "correct and mess them up." Chanel, Bobbi Brown, and MakeUp ForEver are also in heavy rotation on set.
For hair, De Angelis uses wigs and extensions on a few characters, but mostly employs them in flashback scenes. Her biggest concern is conditioning, because while she has to make the characters' hair look like they haven't conditioned in weeks, "I can't let their hair suffer!" To combat backcombing, heat tools and other frizz-inducing styling techniques, De Angelis plies the actors with professional-level conditioners like Goldwell, which is a favorite on set.
By season two, each character's signature look is pretty firmly established — or, as Bigger told the Cut, "in that dun-colored environment with the ugly florescent lights, we've really tried to have one thing that will distinguish a character and make her stand out." If you spent the weekend binge-watching the new season (or if you're still catching up) click through our slideshow to read DeAngelis and Bigger explain how they created the looks for ten of the show's principal characters. (Slight spoilers ahead.)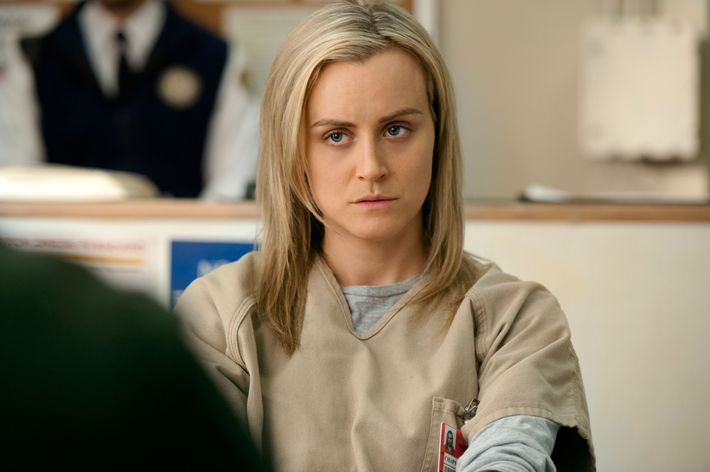 Piper (Taylor Schilling)
If you thought Piper looked more sallow, sick, and sad this season, you'd be right. The team purposely made her look "harder and less cute," according to lead makeup artist Michal Bigger. "Her innocence is gone." They used a D&G foundation on Schilling, but applied it strategically "to cave her out." Hairstylist Angel De Angelis noted, "Her hair goes with her long lean self. She's got the long lean hair." The hair team used coconut oil on her hair to make it look droopy. As for how Piper keeps it that blonde in prison? "She goes to see Sophia!"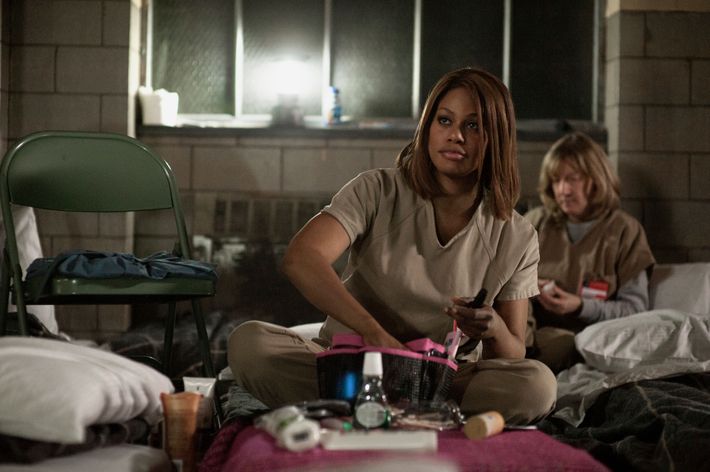 Sophia (Laverne Cox)
Sophia is the most obviously glamorous of all the inmates and wears the most makeup besides Red. "It is over the top, but if you've seen Laverne in real life, she goes much farther!" Bigger said. Sophia gets contraband from Red, uses found items (the team has shown inmates using Kool-Aid as lipstick), and buys things from the commissary. "Sophia can't get much good stuff from the commissary because that stuff is at least 20 years out of date and probably ordered by some weird guy who only knows his mother," Bigger said. "The colors are not right, they're always a little off, they're old colors."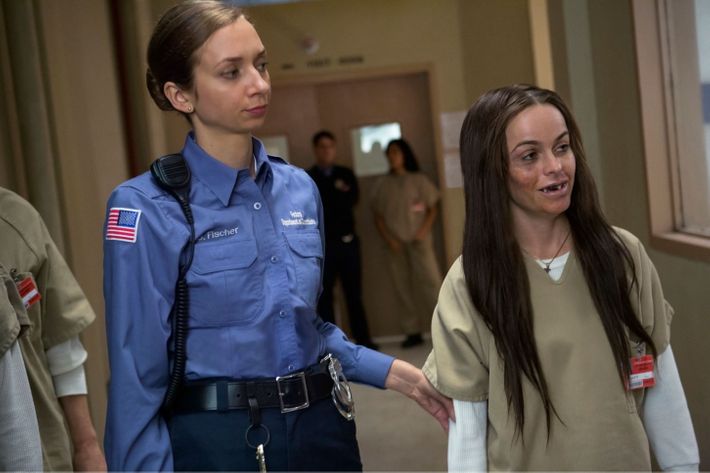 Pennsatucky (Taryn Manning)
Pennsatucky's rotten teeth are arguably a character in and of themselves. Bigger's team uses special dental paint that comes in colors like "nicotine" and "black," which the artists mix up for that specific disgusting rotten color. Manning wore a special prosthetic when her character's teeth got knocked out last season, and the new teeth Pennsatucky unveils this season are Manning's own. To add to her overall filthy look, De Angelis uses a heavy hand with the coconut oil to make her hair look greasy.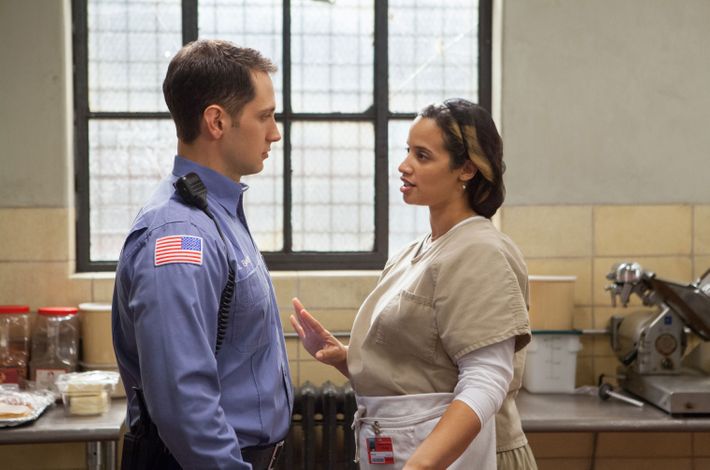 Daya (Dascha Polanco)
Daya's blonde streaks are growing out into an ombré, which the team didn't correct this season, because they wanted it to look like she isn't going to a salon (unclear if that's due to her pregnancy). Daya's makeup is purposely "clean," to project an innocent vibe. The makeup team wanted to emphasize her lips to make her really sensual. "She's irresistible to the guys," Bigger said.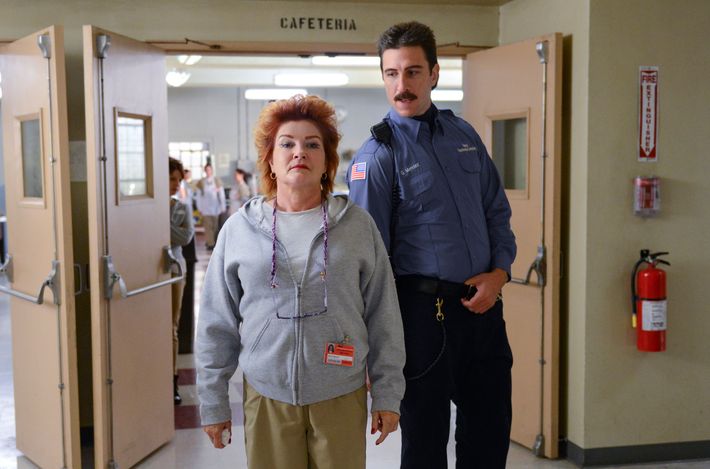 Pornstache (Pablo Schreiber) and Red (Kate Mulgrew)
Pornstache: It's not real, people. "So many people think it's an actual mustache," Bigger said. The hair and makeup teams darken Schreiber's brow and stick on the 'stache, and make his hair stick up in that signature bristly way. Red: Red would not be Red without her signature hair and makeup, which is why it's so poignant this season in the first few episodes when she lets it all fade. The return to her signature look represented the return to control, inspired by Vee's presence. De Angelis mixes a blend of purple and red to make a custom hair color for Red (Kohan pushed for the extreme, unnatural hue), and she goes through about a can of hair spray an episode to keep it teased and "lion-ish." According to Bigger, Red is the only inmate who consistently wears contemporary makeup colors, because she's the one with access to contraband — that's reflected in her red lips, "bizarre" eye makeup, and nail polish. Bigger purposely doesn't use the D&G foundation on Mulgrew, because she wants it to look like Red is wearing makeup.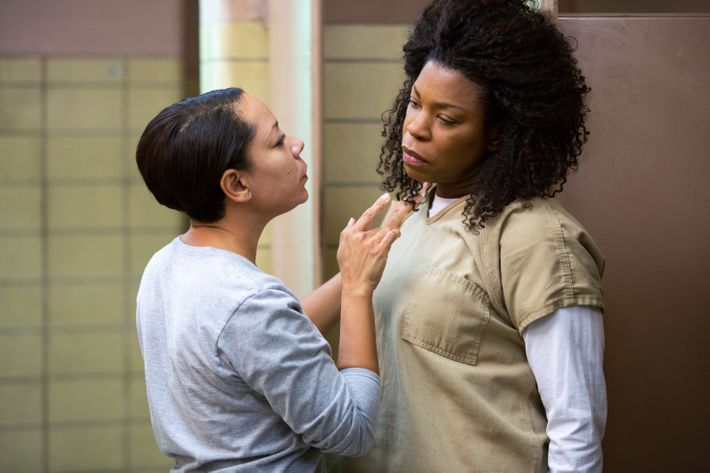 Vee (Lorraine Toussaint)
Vee, new to OITNB this season, makes trouble pretty much everywhere she goes. De Angelis and Bigger both used the word "lioness" to describe the character — and she's in direct competition with that other lioness, Red. De Angelis notes that to get the "mane" effect, she picks out Toussaint's hair layer by layer. "Vee has to look fierce," she said. Bigger's team apparently had the most fun creating the nail art in Vee's various flashback scenes. They're all adhesive nails, though, because the beauty team needs to be able to flip back and forth between the past and present very quickly — nothing can be too permanent.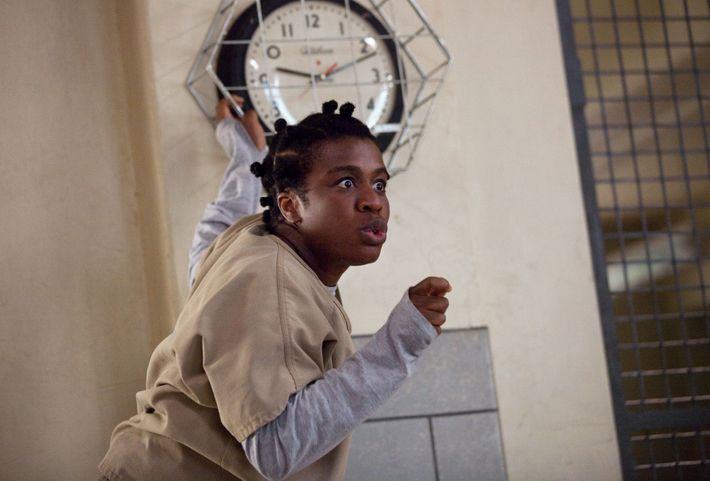 Suzanne, a.k.a. 'Crazy Eyes' (Uzo Aduba)
Crazy Eyes's signature bantu knots add to the offbeat vibe of her character, and in season two we learn the back story of how she came by them as a child. It turns out that Aduba actually auditioned for the role wearing those knots, and Kohan loved the look so much that she opted to write them into the show. If you've ever seen Aduba on a red carpet, you know she is gorgeous. You can credit the makeup team for hiding it. "We mess her up pretty badly," Bigger said. "We go in and make her all splotchy."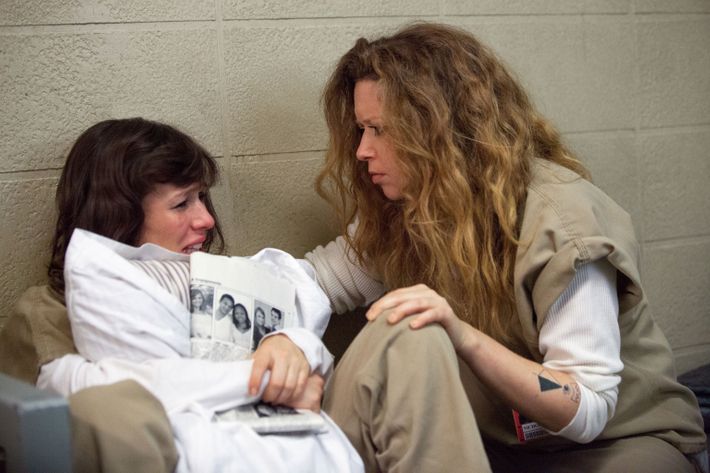 Nicky (Natasha Lyonne)
Besides her penchant for cunnilingus, Nicky's hair is probably her second most well-known attribute. The team "scrunches" it and lets it air-dry, and they touch up some curls so they're not blocking her face while on camera. "On humid days her hair gets bigger than life," DeAngelis said. "When you make her throw her head over and use a little product, it will just grow."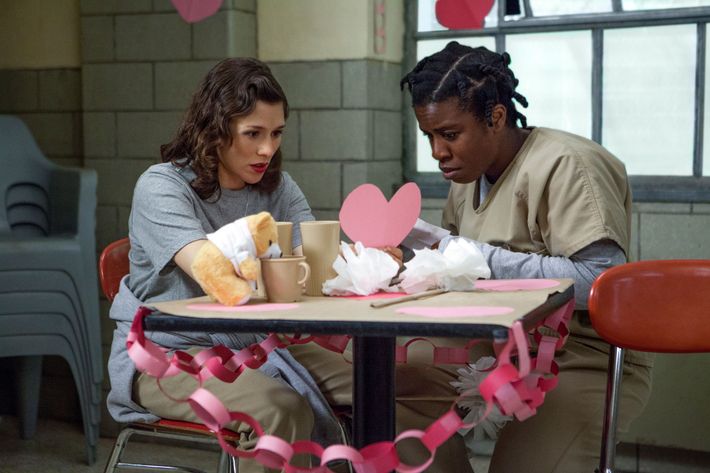 Lorna (Yael Stone)
Lorna's look is inspired by bridal makeup because, as Bigger puts it, "she's in fantasyland." (Her signature lip color is Dolce & Gabbana Classic Lipstick #620.) We also get to see how Lorna achieves those vaguely vintage waves (spoiler: toilet paper). The team tried a few DIY beauty hacks to figure out how Lorna could achieve that look behind bars, and the toilet paper worked.