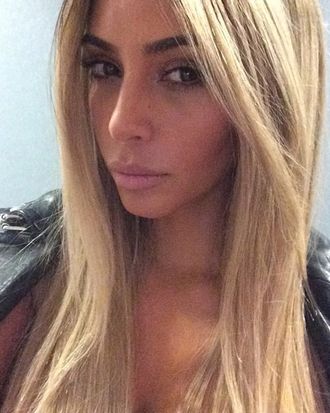 Photo: kimkardashian/Instagram
Duckface, check; blonde-brown hair, check. Blonde Kim Kardashian is back, and Instagram followers are not happy — like, 18,000 comments deep not happy.
Kardashian unveiled the new hair on Instagram with a picture of her sitting in stylist Serge Normant's chair and received 18,000-plus comments, which is a lot even for the rumored No. 1 most-followed celebrity on Instagram. For context, a photo of Kardashian's Givenchy wedding gown received 10,000-plus comments and a photo of Nori West's culturally misappropriated Kidchella costume received 8,000. A sampling of the blonde commentary included variations on "Horrible" with emoticons of the face with a surgical mask.
Rest easy, Instagram: It appears to have been a wig? Later on last night, she confirmed via another duckface selfie that the blonde hair was fake, to the relief of 26,000 plus commenters. Blonde ambition isn't for everyone.