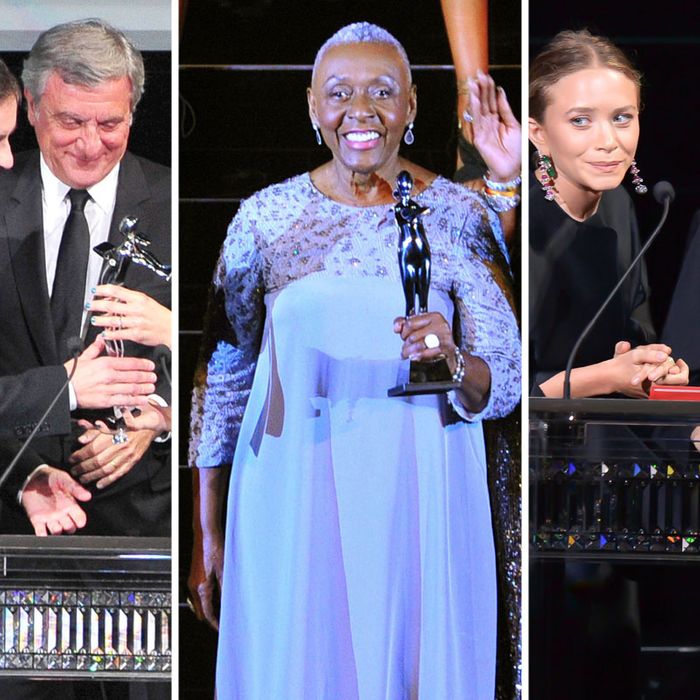 Last night's CFDA Awards marked an evening for weirdness, for gently roasting the fashion crowd — and for a few very meaningful words. From Ruth Finley's standing ovation to the Olsens' dedication to Jay Ott, the seven most tear-jerking moments of the night, below.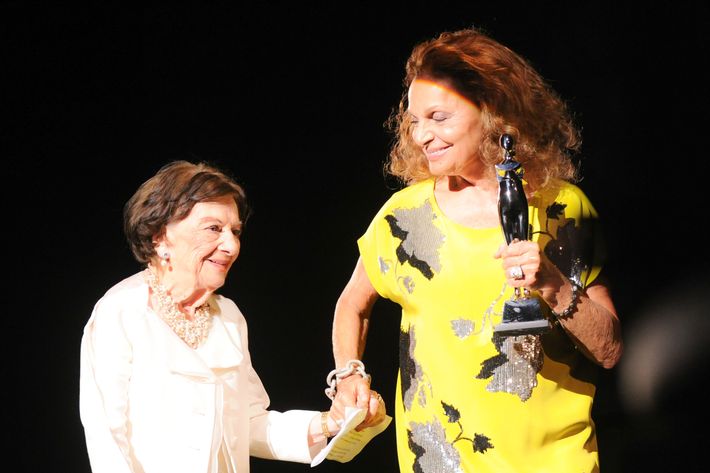 1. Diane von Furstenberg presented the first award of the night to 95-year-old Ruth Finley, keeper of the fashion calendar and general industry legend. Tears, because — this lady is 95! And wearing heels, and also seemingly in possession of a full and varied life, marked by oodles of grandchildren and work that she has loved consistently for seven decades. Standing ovation!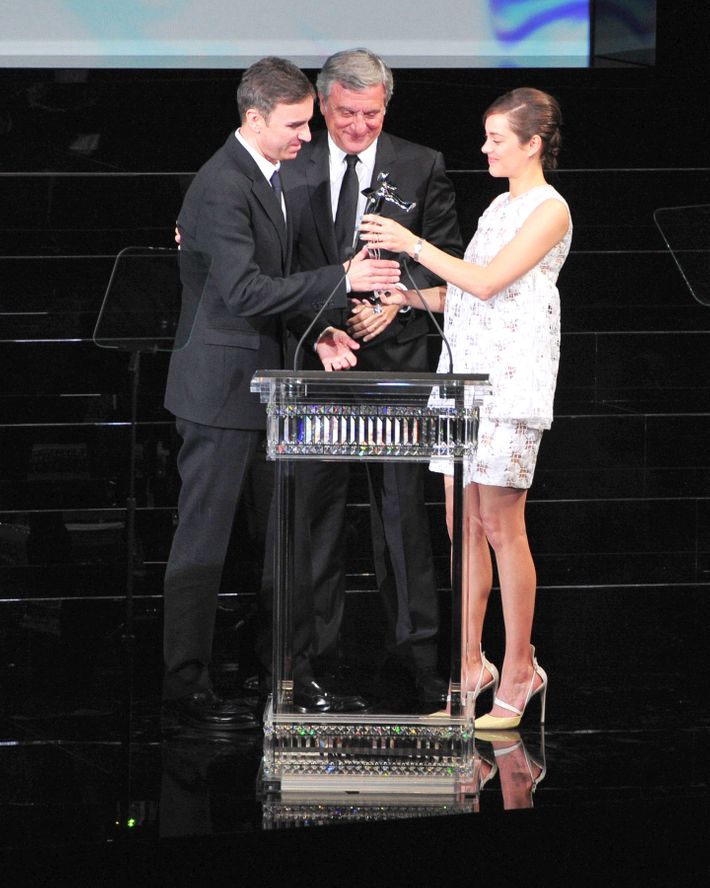 2. The international award was presented to Raf Simons by Sidney Toledano, the CEO of Dior, and Marion Cotillard. But the real tearjerker came when Simons choked up while thanking his studio head and alter ego, Pieter Mulier. Toledano steadied him at the shoulder as he gulped for air and exhibited true gratitude and friendship. Cotillard started to cry, too.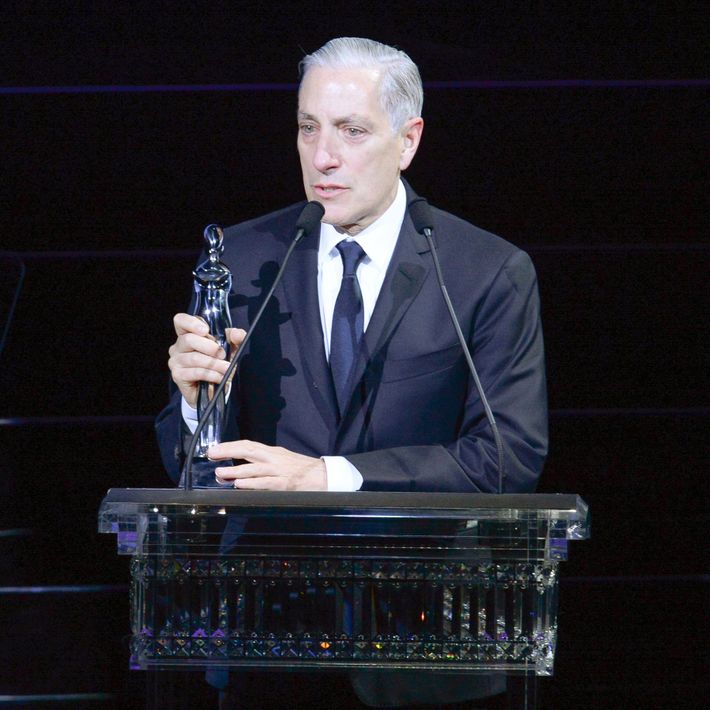 3. Paul Cavaco, the legendary stylist and creative director, spoke a great deal about true love, about how the job of a fashion picture is to make you fall in love every time you look at it, to experience that breathless, adolescent whoosh. He cried when speaking of his former wife and business partner Kezia Keeble, who found him at a Buddhist meeting at Harlem and said: "I just have a feeling you're going to work with a lot of famous people." Keeble and Cavaco have a daughter together, as well as two grandchildren, and also founded the PR firm now known as KCD. Keeble died in 1990, when she was just 48, of breast cancer. (The D in KCD was for John Duka, Keeble's second husband and a former style reporter for the New York Times; Duka died in 1989 of AIDS. Cavaco also thanked the current team at KCD for getting him through that horrible period.)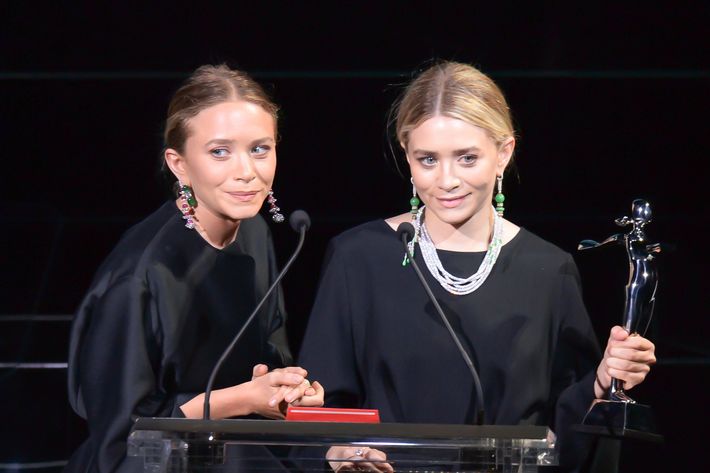 4. Ashley and Mary-Kate Olsen dedicated their Trova to Jay Ott, who went missing this spring.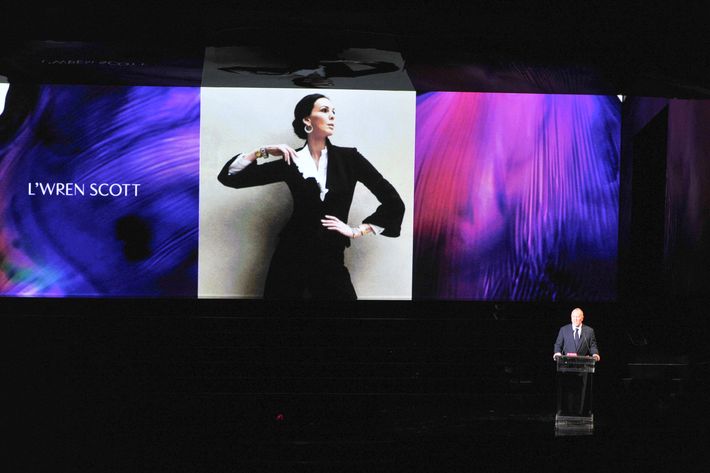 5. Michael Kors paid tribute to Annabel Tollman and L'Wren Scott, using large projected images that reminded everyone in the room just how young both were.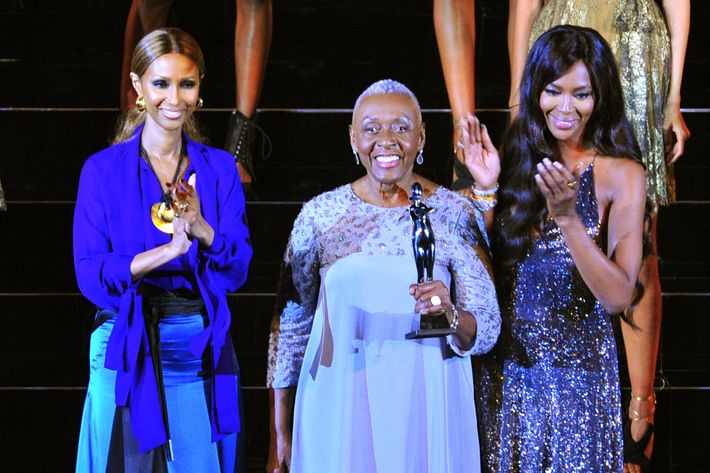 6. Bethann Hardison, the pioneering black model and agent, was shown in an old video clip talking about walking in a fashion show where buyers from the southern states would look down when she passed by. She's spent years fighting for diversity on the runway, and she was joined onstage by a group of models including Iman, Naomi Campbell, Liya Kebede, and Joan Smalls.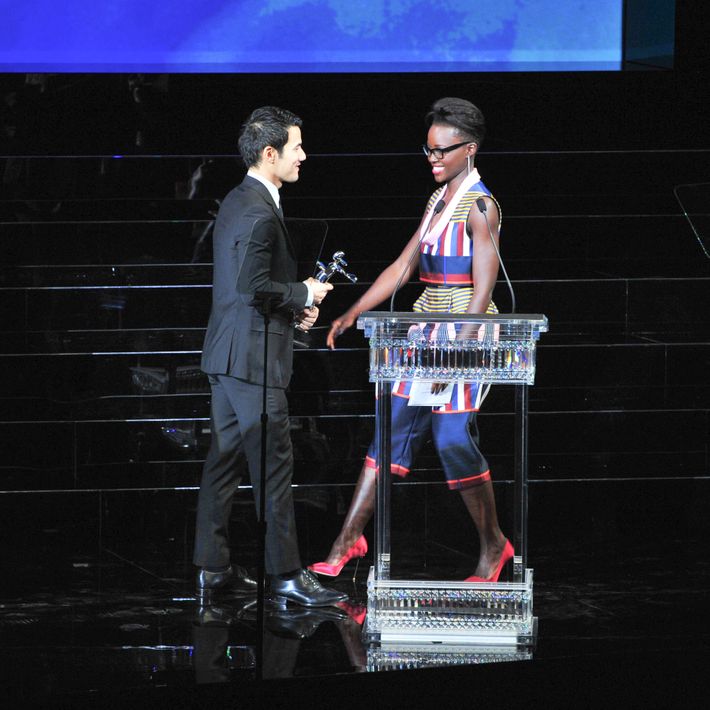 7. The final award of the night was for Womenswear Designer of the Year, presented this time (in a moving follow-up to Bethann Hardison's speech) by a luminous Lupita Nyong'o. One of the main reasons recipients of CFDA Awards cite for feeling as honored as they are is the recognition by one's peers. So when the house lights came up during Joseph Altuzarra's acceptance speech, he was greeted with the faces of the whole industry, its storied meanness totally on hiatus for the night.