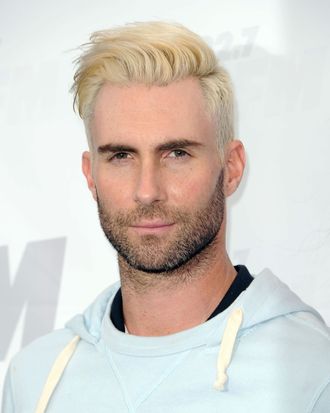 Photo: Jason LaVeris/FilmMagic
In the public imagination, Adam Levine sits on a throne of douche, presiding over all of the other douchebros: So says Jessica Pressler in a new GQ profile. "Perhaps more so than it is for any other celebrity," she writes, "the word douchebag and its variants are applied to Adam Levine in an almost proprietary way." This prompts Pressler to ask Levine to stare down his title of Douchebag of the Century. And, much like a computer or robot, he strives to achieve self-awareness. He asks himself, Adam, what is a douchebag?
Between sips of coconut water and bites of an egg-white omelette, Levine probes all of the other reasons people assume he's a douche.
Let's evaluate.
He wrote a song called Moves like Jagger: "I wanted to become a successful musician. It wasn't like now, when kids are like, 'I want to be a famous slut. Or whatever I can possibly be famous for.' I wanted to be a famous musician."
He's slept with so many women: "There's the carnal shit you can't deny. And if you're in the public eye, to me, it's very boring to say what you have to say and be media trained to the extent that you don't ever reveal any truth. There was a time in my life when I lived probably a bit more on the primal level. And it was amazing."
Many of whom happen to be Victoria's Secret models: "Preference should never be looked down upon. Unless it's based on something really shitty. I'm not saying I have a preference, but like, I want to date someone … Listen, there are a lot of women in this country, in many countries, who date men for their money. Okay? That's despicable. Right? That's not what we're talking about here. Whatever does it for you, man. I don't like feet. You know what I mean? But some people do. Some people have fucking foot fetishes. And it's weird to me. But I don't have to deal with it, because I don't have that. You know?"
He is not insecure: "I'm confident. Some people don't like confidence. They resent confidence."
But he's not arrogant, either: "'I'm not arrogant,' he protested. 'I'm cocky. It's different. Cocky is playful.'"
He seems unlikeable but insists that he is actually quite a delight: "I'm not the easiest person to love right off the bat, you know. If I knew everyone in the world, they would love me. Every single last f—king one of them."
He likes to bro-out by living in a house with all of his bros: "'These are kind of the last days of the frat house,' he says, waxing nostalgic about the costume parties, and the toga party, and the gigantic pirate party, after which they kept finding swords and eye patches and gold coins at the bottom of the pool for weeks."
He says things like this: "You know what the greatest thing about what's happened to me is? I don't have to do my own laundry. I'd always think to myself, I can't wait for the time when I don't have to do laundry anymore."
His summation: "Would it be really easy to assume that I was a douchebag? Definitely. One hundred percent. But that doesn't mean that I am. Or maybe I am, I don't know."
Self-awareness is so hard.