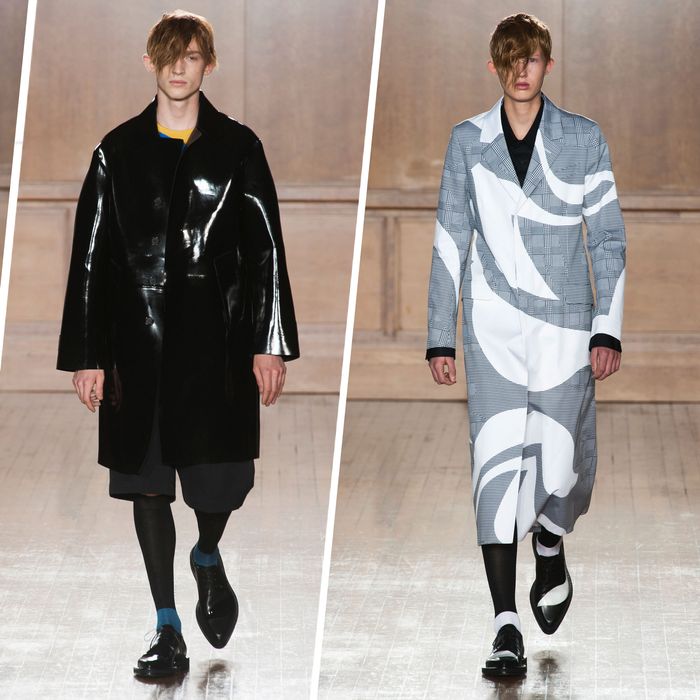 Yesterday's Alexander McQueen menswear show was everything that last season's wasn't: upbeat, colorful, and even a little sporty.
The soundtrack alone said a lot: a rousing mash-up of Missy Elliott tracks ("Get Ur Freak On"; "Work It"; "Pass That Dutch") with a brief and up-tempo burst of the Cure's "Close to You." Nothing sinister or morose here.
Sarah Burton seemed to be taking pleasure in the about-face. The setting was as grand and eerie as in the last two seasons – the high-ceilinged, dimly lit hall of London's Royal College of Surgeons, where guests were surrounded by wood panels and oil paintings. Only the neon-yellow Perspex invitation gave a clue that something a little less gothic was to follow.
The collection had a palette of primary colors: black and white with punchy accents of red, blue, and yellow. Abstract swirls streaked over white turtlenecks and sweatpants, leather bomber jackets and suits — some thought they suggested the Japanese patterns used in Kabuki theatre, but to the Cut it looked like Sarah Burton had drawn inspiration from the exhibition of Matisse cutouts currently showing in London.
Many of the models wore chunky white sneakers, but there were also glossy black Derby shoes with color swirling over them. These were one of many dark touches that were recognizably McQueen. Coats were long and layered, slashed at the hips and lapels to reveal blood-red fabric underneath. There were somber suits and jackets in black, gray, and houndstooth, elongated dress shirts layered under vests, and black shorts worn with sheer, knee-length socks. A jet-black, vinyl raincoat seemed perfect for the rainy streets of London.
These days Alexander McQueen is one of the Duchess of Cambridge's favorite labels, but with this collection, Burton reminded us that she can turn her hand to everything. She can play it safe with the royal wardrobe, but then shake things up with a show that reminds us all to pay close attention.