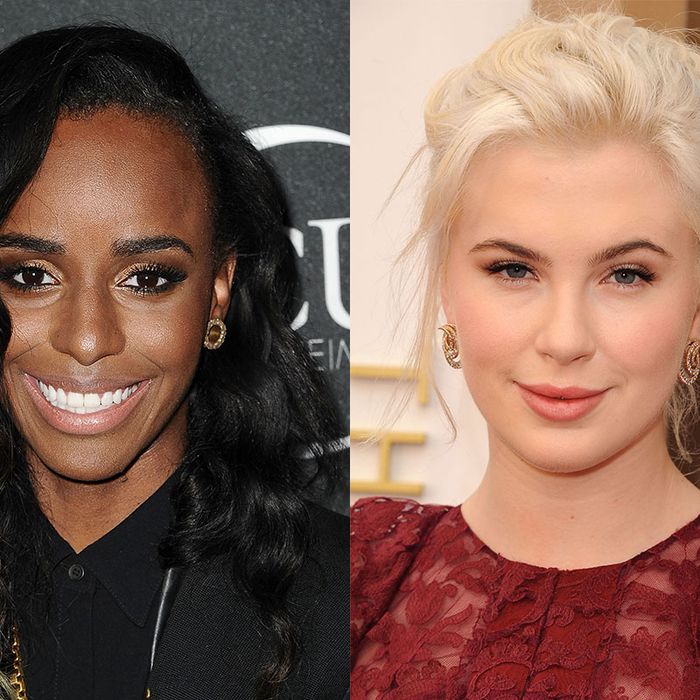 Angel Haze and Ireland Baldwin have been canoodling and exchanging intense/adorable message all over Instagram and Twitter for several months now, and would like us to finally acknowledge their relationship. The couple, who met at fashion week, are out and proud about their status as GFs — and they're ready for the media to be too, says Haze in an interview with The  Independent.
"I don't know if there's, like, some confirm or deny thing with the way relationships work in the media, but everyone just calls us 'best friends,' 'best friends for life,' like we're just friends hanging out. It's funny. It's rad in some ways; it sucks in others." She blames a collective discomfort with sexuality and race: "An interracial gay couple, I mean, that's just weird for America right now."
Of course, this is also the first time either of them have had a DTR chat with the public. As with the beautiful, ambiguous relationship of Cara Delevingne and Michelle Rodriguez, things hadn't been previously spelled out. But Haze makes things clear: "We f**k and friends don't f**k. I have never f**ked one of my friends."
Got it! Now, then, let's just acknowledge this relationship for what it is: a beautiful, heavily Instagrammed, interracial Sapphic union for us to root for.