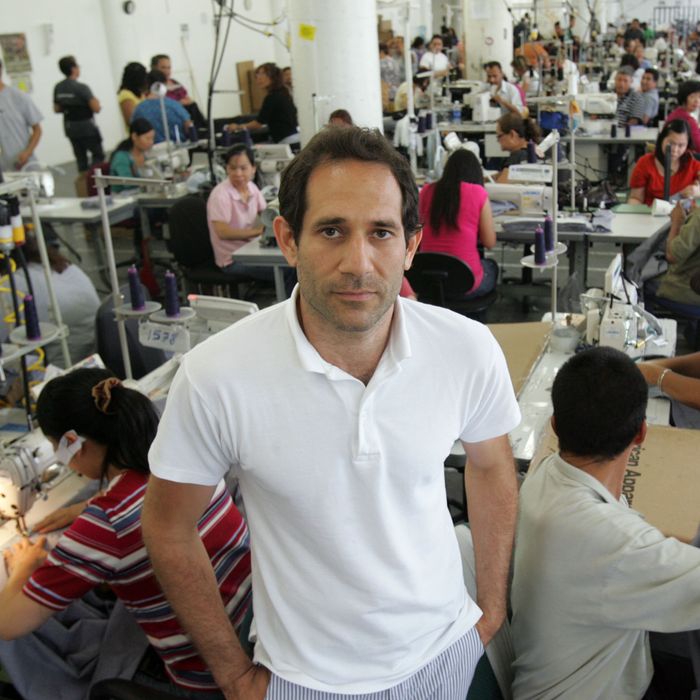 Photo: Ringo Chiu/? 2010 by Ringo Chiu
Dov Charney has been accused of sexual harassment and other sleazy behavior many times, and on Wednesday night the allegations finally caught up with him. American Apparel's board of directors announced that it has voted to "terminate his employment as President and CEO for cause," due to an "ongoing investigation into alleged misconduct." A statement from the company, which Charney founded in 1991, did not offer any details about the investigation, but said it intends to fire him following a 30-day waiting period required by his contract. "We take no joy in this, but the Board felt it was the right thing to do," said newly appointed board co-chairman Allan Mayer.
Charney's suspension went into effect immediately, and chief financial officer John Luttrell was named interim CEO. The board said the management changes may trigger "an event of default under its credit agreements" and that it will seek a waiver from lenders. American Apparel has been struggling financially in recent years. It reported a net loss of $5.5 million in the first quarter of 2013, and a loss of $46.5 million for the same period last year, according to The Wall Street Journal.
In the past, the company publicly backed Charney as he was accused of a variety of disturbing and abusive behavior. In 2011, four female former employees filed a sexual harassment suit against the founder, accusing him of sexually assaulting one of the women during a job interview. The company called the suit "fraudulent and malicious," and said the women "colluded with one another to shake down Mr. Charney and American Apparel for money." A wrongful termination suit filed by a former Malibu store manager in 2012 claimed that Charney choked the manager, tried to rub dirt in his face, and called him a "fag" and "wannabe Jew." The company said the allegations were "contrived and untrue." That year, Charney famously said of the misconduct charges, "that's also a testimony to my success, though, the fact that I'm a target for baseless lawsuits."
In its statement on Wednesday night, American Apparel expressed excitement about its new Dov Charney–less future. "Dov Charney created American Apparel, but the Company has grown much larger than any one individual and we are confident that its greatest days are still ahead," said Mayer. Charney has yet to comment on his termination, and when reached by phone by a Los Angeles Times reporter, he hung up.