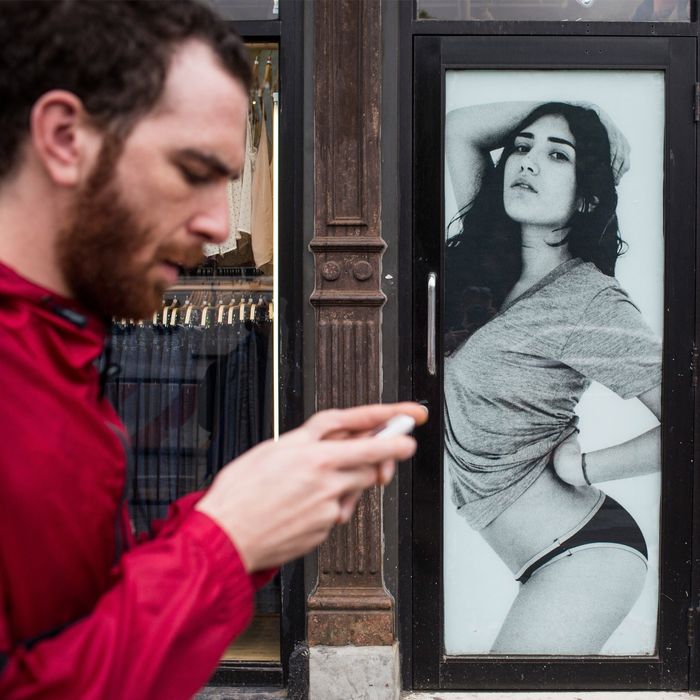 Photo: Andrew Burton/Getty Images
They were kind of unremarkable clothes you might glimpse in yearbook photos from the early '80s: ringer tees, piped track shorts, and striped knee socks in anachronistic color combinations like maroon and yellow, and they were the brainchild of Dov Charney, a Canadian entrepreneur who was obsessed with American sportswear. Begun as a T-shirt label in 1989, American Apparel went on to clothe scores of hipsters in its retro basics. The clothes, cheaply made and unadorned, were secondary to the porny, rec-room aesthetic of the ads. Like any company whose product is so humdrum, marketing was the not-so-secret sauce. If the ads skeeved you out, too bad, but if you bought American Apparel you were young, sex-positive, and in on the joke. (And very slim: The limited range of sizes catered to the underfed.)
As the company's profile grew, Charney gained a reputation as an ur-perv: He routinely walked around the office in his underwear, masturbated in front of a Jane magazine reporter, and allegedly sexually harassed multiple employees. But, if anything, the scandals boosted his public profile. Occasionally SNL has skewered John Galliano and Donatella Versace, but how many garment-company CEOs are mocked with skits on "Weekend Update," as Charney was?

Charney's ouster this week probably ought to have happened years ago. (Stockholders evidently approved of the decision; shares increased as much as 20 percent post-announcement.) Competitors like Forever 21 and H&M beat American Apparel on price, with more interesting design to boot. Nasty Gal's cutout-heavy inventory is far more provocative. Runway devotees can cherry-pick the Zalenciaga and Zéline offerings at Zara, while people who just want basics can shop at Uniqlo or the Gap. Plus, the retro thing no longer computes: Generation Y isn't nostalgic for the '70s or even the '80s. A striped sweatband or Jane Fonda–style neon leotard is as much a relic as a floppy disk. (That being said, a visit to American Apparel's e-commerce site today revealed a model in a daisy-print slip dress advertising "'90s iconic style," so at least they're trying.)

Sure, American Apparel could try juicing things with a designer collaboration or two, but in an era of complete collab-saturation, that probably wouldn't turn things around. Instead, it should build on the goodwill from the Charney firing and completely re-brand itself. Today's hot fashion start-ups are squeaky-clean do-gooder efforts — TOMS, Warby Parker, Everlane — in which the founders are equal parts disruptive tech savants and saints. (I mean, do you know anything about TOMS founder Blake Mycoskie's sexual proclivities? Can you imagine Michael Preysman, of Everlane, being satirized on late-night TV?)
American Apparel has, in the past, emphasized its altruistic credentials, but the imagery surrounding the company swallowed the message. When the brand held a benefit to raise money for Hurricane Katrina victims, it naturally took the form of a bikini car wash. Campaigns about immigration reform found, say, a comely USC student in cutoffs posing alongside an immigrant farmer from Mexico. More recently, the brand made a clumsy attempt to address the Rana Plaza tragedy with an ad titled "Made in Bangladesh." It featured a topless employee wearing unbuttoned jeans above a "Playmate of the Month"–style heading: "Meet Maks." The advertising copy below the image clarified that Maks was a merchandiser for the company and was born in Dhaka, the site of the tragedy; it also emphasized that American Apparel was exempt from the ranks of companies who produce fast-fashion under such abominable conditions. But most people weren't paying much attention to the copy below that image. The "Made in Bangladesh," construction, presenting Maks as just another product, was hackneyed too: Now that ads for shampoo express a Lean In–lite feminism, at least gesturing toward empowerment is de rigueur. What about a commercial showing an immigrant single mother who's able to "have it all" because of the fair wages and free child care she's receiving at work? And showing consumers that your T-shirt purchase can fund that? Yeah, it's a little fake, but it's more realistic than the fantasy of perpetually DTF, bedheaded store managers in the company's ads.

American Apparel truly has some bona fides to emphasize in this area: It makes its clothing in the U.S., and pays its employees well above minimum wage (and offers them an array of benefits). The company has spearheaded goodwill-generating campaigns in favor of immigration reform (Legalize LA) and LGBT rights (Legalize Gay). It has fabric re-use initiatives and sustainable lines. It has worked with charities like GLAAD, donated shirts to the victims of the Haitian earthquake, and held a sale to benefit homeless youth. (It has even been endorsed as an exemplar by the author of Ethical Chic!)

The curse of American Apparel's original branding is that it worked too well — and now we can't get it out of our heads. The key for whoever takes over from Charney will be to make a completely new message stick.