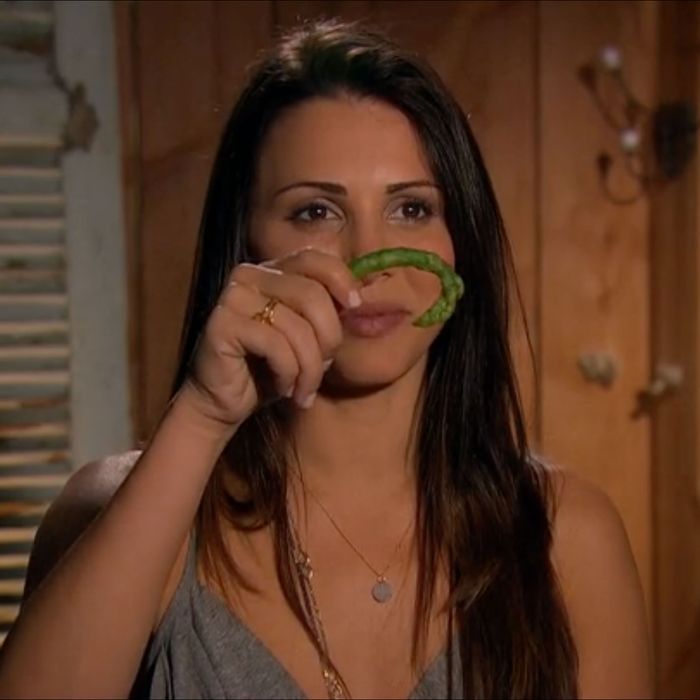 On last night's very special episode of The Bachelorette, the gang went to lovely Marseilles, the city south of the City of Love, where they visited a food market and a scary mime studio. But that's not all: ABC also thought this was the perfect chance to enter into a conversation about race. So while some guys made out, some guys learned to mime, and Andi learned to cook frog legs and overcome her PJPSD (Post Juan Pablo Stress Disorder), the rest of us were obliged to grapple with the underlying racism that has been a problem throughout the whole franchise. Was anyone surprised that the conversation was so unsuccessful in this context?
But first, the dates.
Josh the Jock gets the first solo date of the night: grabbing sandwiches and taking a boat tour of Marseille. Neither Josh or Andi spoke French very well, so they strolled around screaming Merci! Merci! to the sky as if the heavens would give them more baguettes. Fortunately, they are fluent in make-out, so they proceeded to molest each other while missing all of the sights Marseille had to offer. Brian, on the other hand, was a dud on his culinary themed one-on-one date — so much so that Andi up a flaccid asparagus to illustrate both the death of her lady boner for him and his manhood in general. The other nine got to go to mime school! They wore stripes — but didn't paint their faces because asking Marquel to go whiteface for love would have crossed so many lines — and humiliated themselves by performing for strangers who immediately hated them.  As JJ put it, "Am I an amazing mime person? No." Truth.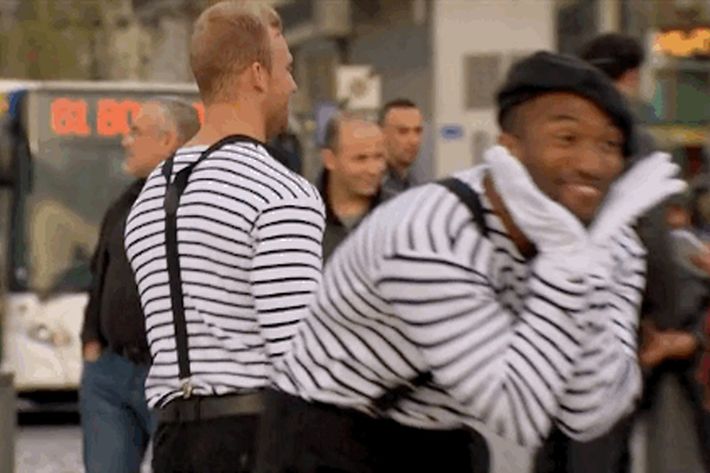 Meanwhile, back at the Men Den, things were getting heated.  JJ the Panstrepreneur decided to be a "good friend" and tell Marquel that Andrew had called him a "blackie." I didn't know this was a commonly used slur; regardless, he was rightfully upset. Generally when a Bach contestant gets this much screen time, it foreshadows their departure. Marquel has been a standout character, but last night he got more than one monologue, including a tearful one where he explained how frustrating it was to not be seen as a "good guy" or a guy who was raised well, but rather as  "the black guy" first and foremost. 
In the past few years, ABC has come under criticism for a lack of diversity on The Bachelor. Every time there is a black contestant, especially one that makes it past the first few episodes, it feels like ABC is gesturing wildly like See! We have a black friend! Even if his season, the show gave Marquel this moment to say, "I'm not your token, I'm a real person" but then treated him like one anyway. It wasn't really helpful, just some awkward meta-moment made all the more uncomfortable when he didn't get a rose, and his exit from the show felt totally unexplained and abrupt. I can't really suggest a fix, but it was an unfortunate ending to ABC's kind of hackneyed first attempt at acknowledging race.


Given all the tension, Andi decided to skip the standard cocktail party before the  rose ceremony. She was mad, so selected a strapless, corseted gown and did her hair in a crazy sidebraid— proving that grown women also emulate Elsa from Frozen, and also suggesting that she is ice cold and will axe any troublemakers. She did so by kicking off Marquel in a group that included Patrick, the boring guy and Andrew the maybe-racist.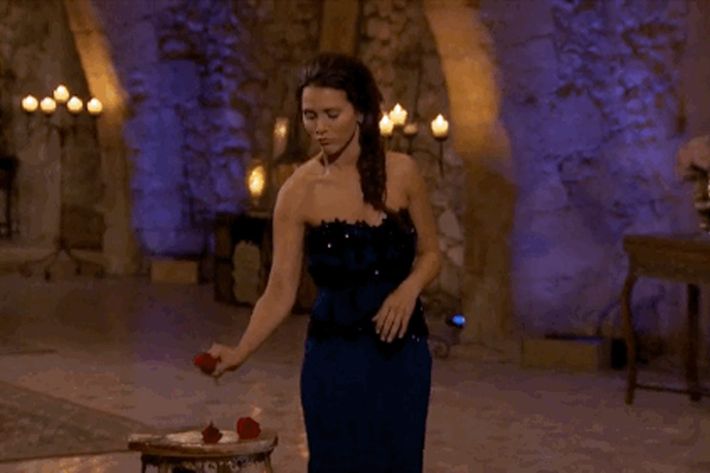 Farewell Marquel, sensitive, self-aware, Marquel. We will miss your bold pattern mixing and commitment to the performing arts. Also your abs.