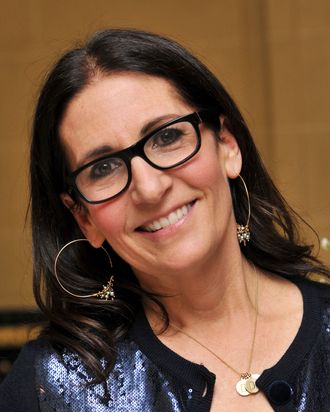 Photo: Nick Harvey/Getty Images
Everyone has grown up hearing the adage "beauty is pain," but to Bobbi Brown, the newly appointed editor-in-chief of Yahoo Beauty, it's exactly the opposite. "A lot of women would be happier if they were comfortable," she told the Cut. With her new site launching today, Brown joins a host of other big names like Joe Zee, who will be the new editor-in-chief and executive creative officer of Yahoo Fashion and serve as beauty editor-at-large. Brown elaborated on her vision of beauty for the site, including why she thinks women open up to their makeup artists and how she would respond to critics who question the boundaries of her new editorial role.
Congratulations on your new site.
Thank you. I'm excited and a little terrified.
How did Yahoo approach you about being the editor-in-chief of the beauty vertical?
Yahoo approached me about creating a beauty magazine in a very different way from all the other beauty sites out there. Beauty is more than makeup; it's everything from what you put in your body to how you feel about yourself to how to go from day to evening quickly. It's also about how to feel confident even when you don't feel 100 percent.
Being in the fashion and beauty industry, I've worked with some of the best experts and have learned a lot of lifestyle tips I want to share. With my team, we're going to explore everything out there.
What niche do you feel like your content will serve in the beauty world?
Well, first of all, I'm not saying there is anything missing. Everyone has their niche and is doing a good job. I'll be curating partner content on my site. What I want to do is much more natural to me. I plan to empower women with knowledge and information about being able to be comfortable and their most beautiful self.
I want women to make better choices. I believe it's an evolution through different ages and stages of our life; we've been through many different things. As a career [woman] and working mom — it's about what works for me and tapping into my address book to bring women and men from many walks of life to talk about what they do.
The things I'm interested in are the same things women are interested in. It's about how to go from school to soccer meeting to black tie. I've done makeup in the back seat of a taxi. It's about black heels and black leggings and how to walk the red carpet. I don't need eight hours to do my makeup. I just need to know the tricks that work.
What has the experience been like working on the other side of beauty, in the editor role?
It's really fascinating. An editor-in-chief, to me, has always been a Linda Wells or an Anna Wintour. The title is funny for someone who doesn't know how to type. I'm good at collaborating and saying yes and saying no, but the combination of beauty, fashion, and realism is what interests me the most. It's about giving women real answers. That's why women always came to me first for their faces.
Being a makeup artist is helping a woman find answers to her problem and getting to know her. It's about talking about her story and the challenges she's had and is worried about. Women open up to makeup artists.
Why do you think women open up to their makeup artists?
I don't know. I find a lot of people, especially well-known women, they have a certain face they show to the world. When you are in the hotel in your bathrobe and someone is helping to get your look together, there is an integrity and truthfulness that comes out of who you are. It's something I've really enjoyed. You get intimate very quickly.
For us, beauty is a journey. It's about how we could all just positively feel good about ourselves, rather than feeling someone else is thinner and younger and better. Or thinking you need better hair and clothes. A lot of women would be happier if they were comfortable.
Many people were excited to hear about your new appointment to Yahoo, but there were the few critics who wondered about the ethics of you leading your own beauty brand and working in an editorial role. How would you respond to those critics?
I'm incredibly sensitive to all of those things. Don't you think that I thought about it when I said yes? Of course, I spoke about it with Estée Lauder, who owns my company. I needed their comfort level. My answer is, I have a team of beauty reporters who are going to be covering trends and other people's products. I won't be reviewing anyone's products or mentioning any product or my own product.
My voice is going to be that of a teacher and an editor, but I am not at all involved in product on this site. This site is not a place for me to discuss product. I can discuss what to look for as texture. I have a feeling that in the beginning, there will probably be almost no Bobbi products, because I don't feel comfortable. But the beauty reporters will deal with all of the products; I won't.
What will your day-to-day involvement be like?
No idea. It's my job, and I will figure out how to make everything work. I just happen to have two jobs and a family, and I will make it work.
Do you think the demographic from your brand and for Yahoo will overlap?
No. I think it's a very full demographic. I've been a beauty editor on the Today show for 15 years. I've had a column in Health Magazine, and this is just an even bigger audience. The demographic is going to be older and younger. There's an opportunity for everything. There's even an opportunity to have men come to the site.
I'm interested in men and beauty. I'm the mother of three boys and have four nephews and a husband and a couple of exchange students. I know firsthand that men don't wear makeup, but they care about the way they look. I'm interested in how men think about women, too.