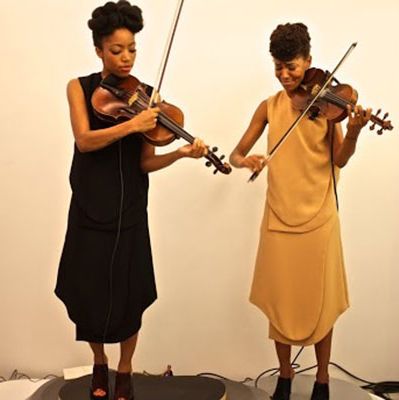 Framed with purple arches, yesterday's Opening Ceremony resort presentation was heavy on acid-tinged floral prints and neon. But the real standout was the show's soundtrack, supplied by the string duo Chargaux.  
The gorgeous violin and viola pair, comprised of Charly and Margaux, who don't use their last names, played string renditions of popular R&B songs such as Beyoncé's "Partition," Kanye West's "Flashing Lights," and Rihanna's "Only Girl." Punchy and playful, it was the perfect backdrop for the vivid presentation. Some songs were obvious iterations, others like quasi-familiar chamber interpretations for the brazen downtown crowd at the venue, OC's Howard Street flagship.
Charly, a Berklee College of Music grad, performed in a structured beige dress and tinted her eyebrows a beautiful teal color. Margaux, clad only in black, towered above most of the observers —before the presentation started, many assumed they were both going to model in it.
The pair have been together for three years and will release their first EP, Broke and Baroque, with the single "I'm So Pretty" via Opening Ceremony on Monday.
"I met Charly because I heard her playing violin on the street in Boston," said Margaux after the models had filed out, putting her viola back in its case. "I stopped to listen to her and was like, 'I play viola, we should play together!' And then we did."
Charly and Margaux moved to New York from Boston in 2012 and were noticed by Glee star Darren Criss at the SXSW music festival in Austin, Texas, in March of that year. Chargaux then joined him as the opening act for his sold-out North American tour, Listen Up. The two also contributed a string arrangement for Kendrick Lamar's Grammy-nominated debut album "Good Kid m.a.a.d. City."
"This is our first show like this," Marguax said. "Opening Ceremony heard us play in the subway. We play in the subway, you know, to get our name out."
And as we all know, whatever Opening Ceremony throws their weight behind is destined for glory.