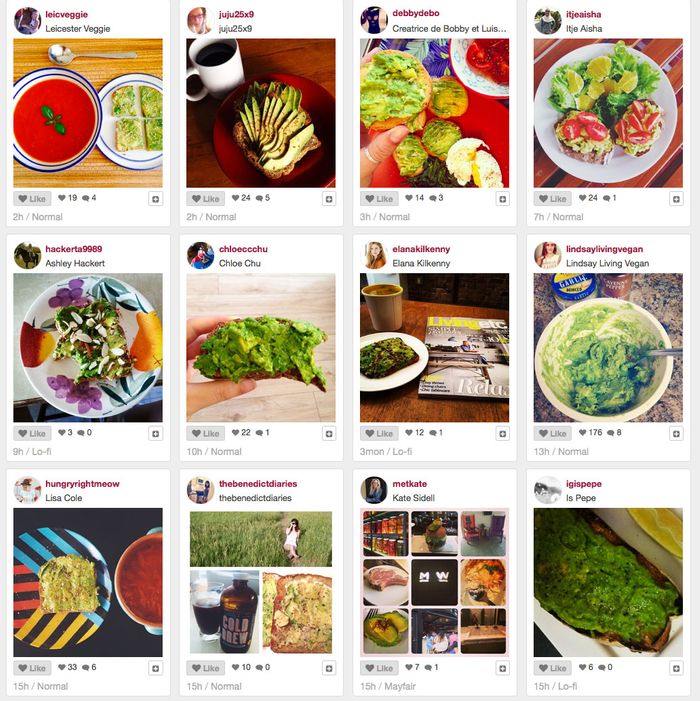 We live in a golden age of snack innovation — Cronuts, ramen burgers, cereal-milk ice cream. So why am I being visually assaulted by avocado toast on Instagram? These vegan open-faced sandwiches are exactly what they sound like: nothing less, nothing more.
I suppose I could blame Olivia Wilde. Eight months ago, she sheepishly posted a picture of the avocado toast at Cafe Gitane. "Possibly the easiest thing in the world to make but I only want it from them," she wrote. But I'd noticed a burgeoning avocado-toast fetish among the friends-of-friends I stalk on Instagram months before Wilde's addition. Over 6,000 toasts have been tagged!
I don't necessarily have anything against avocado toast; I just struggle to understand why avocado toast. Here's what I've got so far:
Avocado toast is a name-brand food experience.
An avo-toast Instagrammer probably picked up her avo-toast habit at Cafe Gitane, the French-Moroccan restaurant in Nolita where models hang out — or she picked it up from the Instagram accounts of those models. The plates say Cafe Gitane on them, so no one thinks they made that shit at home.
But she could have made it at home, because avocado toast requires zero cooking skills.
You just mash up the avocado and spread it on the bread and then devote the rest of your time to arranging the aerial shot. Red-pepper flakes are optional, though they add nice contrast.
Avocado toast is green.
Not even a really nice green, but green. And neatly square. Which makes it among the most eye-pleasing item in the urban diet of beige mush like cereal and burritos and deli California rolls.
It's healthy.
A semi-solid, nutrient-rich fat, avocado is like cheese for people who go to barre classes.
But not too healthy.
Toast is still made with bread, after all.
It aspires to anti-aspiration.
The patron saint of avocado toast is Gwyneth Paltrow, who, in her cookbook It's All Good, likened her gluten-free variation to "your favorite pair of jeans — so reliable and easy and always just what you want." (Don't tell Goop about pizza.) The avo-toast Instagram is like a secret handshake for her disciples, who think macarons are fussy and have too much self-respect to pose with doughnuts they have no intention of eating