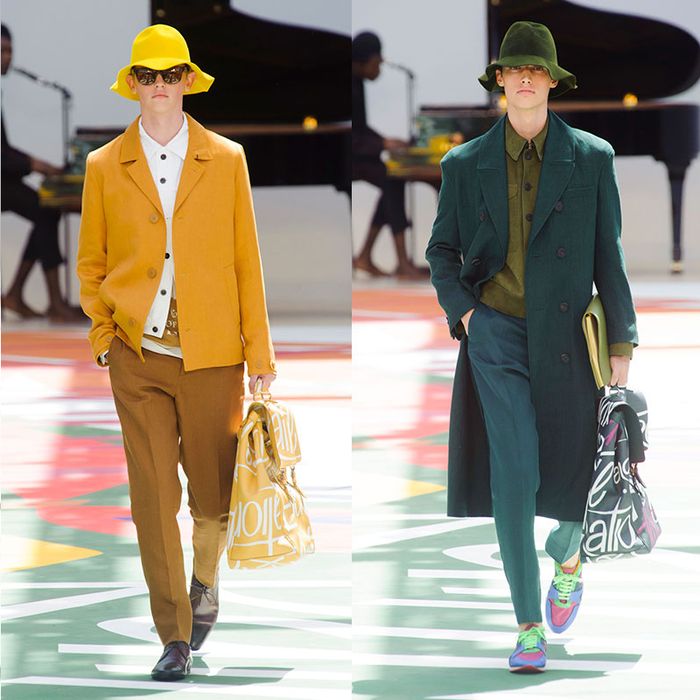 For a change, there was no red carpet outside today's Burberry show – only the green grass of London's Kensington Gardens, and the perfect backdrop of blue skies and blazing sunshine. Inside the tent there sat an assortment of British celebrities, including a bronzed David Gandy in white, and Jourdan Dunn in a black leather jacket (in which she was presumably sweating heavily, but in an attractive, model-like way).
The theme of the collection was "Book covers and Bruce Chatwin," referring to the English novelist and travel writer, who couldn't resist the lure of an adventure. The cornerstone of the collection was Burberry's hand-painted motifs, which were designed in-house and then printed onto cashmere, cotton, and leather. The prints appeared in the form of swooping, stylized typography – including words like exploration – and illustrations inspired by vintage English book covers.
Indeed, the prints were used not only on silk scarves and satchels but on large, leather-bound notebooks that the models carried like clutch bags — the perfect entry-point accessory for someone who wants to look like a writer, but in a Burberry way.
Speaking of accessories, we can't let the headwear pass without a mention. Every model wore a floppy bucket hat, which came in a spectrum of colors including (to use the brand's own words) "orange ochre," "vintage green," and "magenta pink." It's hard to imagine Christopher Bailey himself stepping out in a saffron-yellow bucket hat, but you never know. It did make for a very pretty, rainbowlike finale.