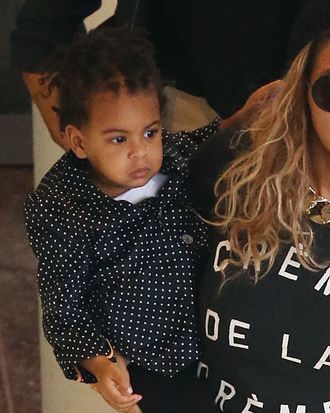 Photo: Splash News/Corbis
Granted, this Change.org petition to comb Blue Ivy's hair only has six signatures. But according to the Root writer Yesha Callahan, the undersigned are not the only six people to have weighed in on Jay Z and Beyoncé's toddler hair care since new photos surfaced of the family coming home from the Hamptons. "Over the last day, I've read plenty of comments referring to Blue Ivy's hair as nappy," she wrote. "And it wasn't in the connotation of 'happy to be nappy.' Nappy was being looked at as something negative."
In fact, the Change.org petition went with "matted dreads and lint balls." Callahan continued:
"There were also comments about how Beyoncé and Jay Z always leave the house looking like a million bucks, but what about Blue Ivy? So would people be happy if Beyoncé threw a weave or flatiron through Blue Ivy's hair? Or how about a million beads and braids? Then you'll have the natural-hair commanders complaining about how much damage that can cause to her hairline. Basically, if you're Beyoncé and Jay Z, you're damned if you do Blue Ivy's hair, and you're damned if you don't."
I used to think the lengths that celebrity parents went to keep their kids out of photographs — blanket, etc. — were a bit much. Now I get it!