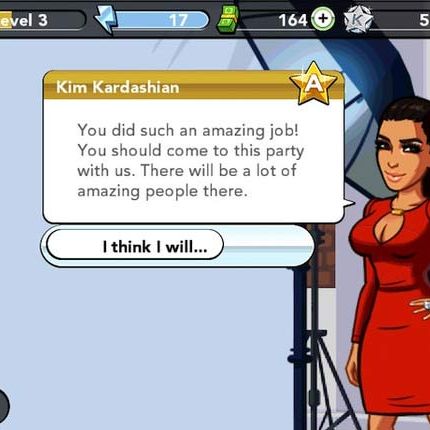 Kim Kardashian released a phone game yesterday, fantastically titled "Kim Kardashian: Hollywood." Vanity Fair's Josh Duboff played it and reports that it's just like Hollywood, except instead of the Hollywood sign, it's a Kardashian sign.
It's a choose-your-own-adventure-style game in which the character works in a boutique, meets Kim Kardashian, and uses a friendship with Kardashian to launch their personal stardom into the universe of fame.
The player must navigate through fashion emergencies and errands for Kim. When faced with new characters, the player can either "flirt" or "network." Do these two social interactions on their own tell us something about the mind-set of Kim Kardashian? Are these the two tenets in the Kardashian Handbook of Interactions? Perhaps, perhaps.
No word about whether the real Hollywood sign is under any threat from Kardashian. But now we know the thought has crossed at least someone's mind.