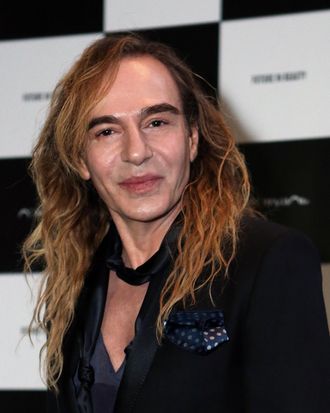 Photo: Prokofyev Vyacheslav/ITAR-TASS Photo/Corbis
John Galliano isn't done with public statements, apparently. Several weeks after he took on the position of creative director at Russia's L'Etoile beauty chain, he went on the couch, and, naturally, a reporter was present. Speaking with psychiatrist Boris Cyrulnik in French newsweekly Le Point, the designer had this to say about his career (according to WWD):
"I've lost, but I also gained a lot. I'm a creative person, and no one can take that away from me. I've been told I committed professional suicide because it was the only escape from the terrible pressures I was facing. What do you think?"
Well, going from Dior to an unceremonious firing to making a semi-comeback at Oscar de la Renta to dancing down a runway in Russia to a song called "John Is Back"? Not exactly an upswing.