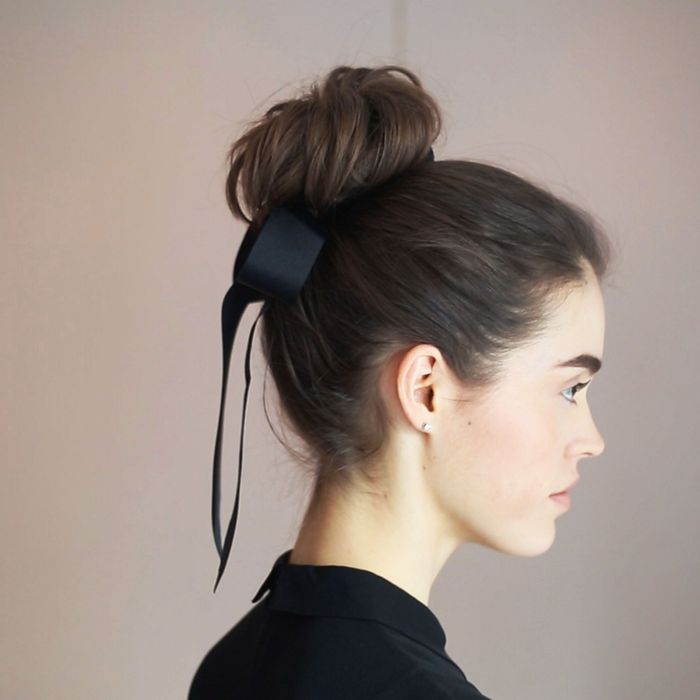 When Michael Angelo of Wonderland Beauty Parlor and I talked about inspiration for this series of GIFs, we were both immediately drawn to the same iconic image of Claudia Schiffer. "It's that one of her with a ribbon — ," I started. "And it has the teased ponytail!" he finished. It's an iconic image of Schiffer with a bouffant pony — reminiscent, too, of Brigitte Bardot — secured with a coquettish ribbon. In this week's hair tutorial, Angelo modified the look slightly with a bun to make it more of a special-occasion style. Angelo and model Britt Bergmeister show us, in a few easy GIF steps below, how to create the look.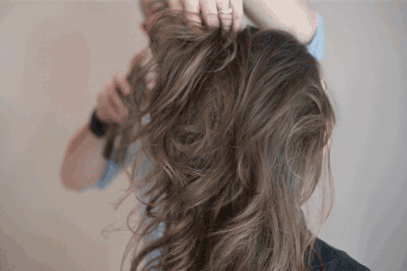 Step 1: Prep the hair with a liberal spray of Oribe's Dry Texturizing Spray to give the hair some grip and texture.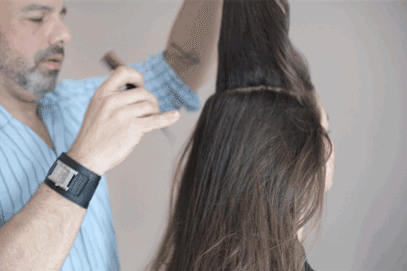 Step 2: To give the front of the bun some slight volume, Angelo back-teases the hair slightly using a rat-tail comb. Do not back comb more than three times, as we only need a slight bit of volume in the front to balance out the bun.
Step 3: Gather the hair into a pony to secure it. Angelo prefers using bungee cords, because they hold the hair (no limp pony!) without causing damage. Make sure the pony is at the crown in the back of the head.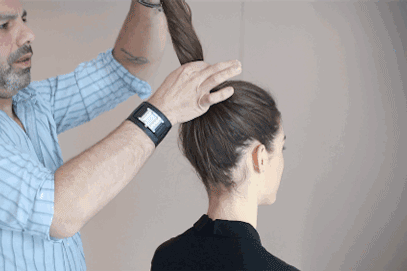 Step 4: Angelo wants to create a full bun, so he uses a mushroom-fluffing technique. He twists the pony and, starting at the base, fluffs it using his hands. Yes, it sort of looks like he's milking her hair.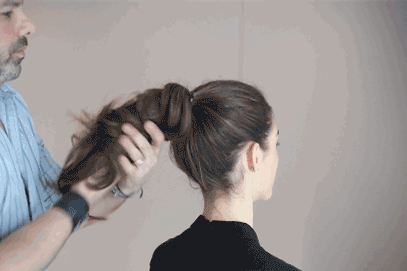 Step 5: He then takes the full hair from Step 4 (note that he does not twist the pony) and creates a bun around the base of the elastic. He secures it with bobby pins.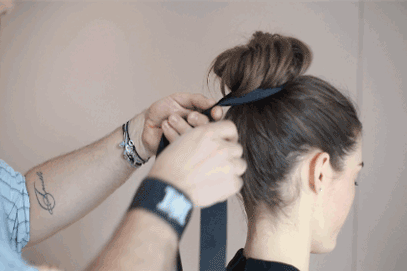 Step 6: Using a wide black one, Angelo ties the ribbon around the elastic. With the bow facing the base of the bun, he cuts the ends at a slant using scissors.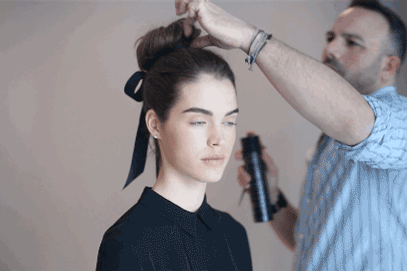 Step 7: He sprays the bun with a final dose of Oribe Superfine Strong Hair Spray.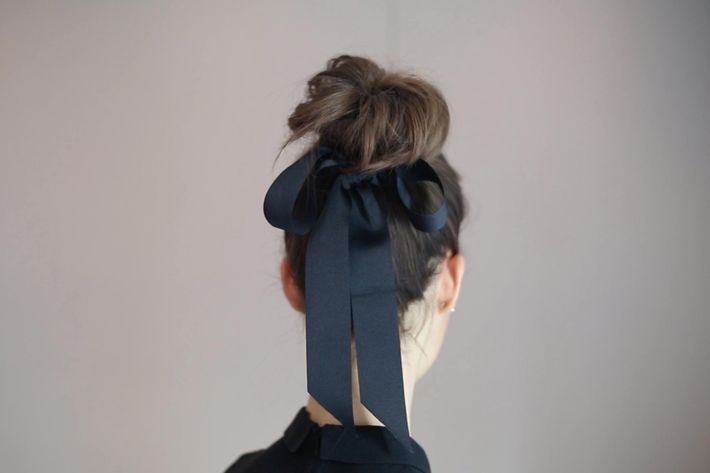 Step 8: The final look.