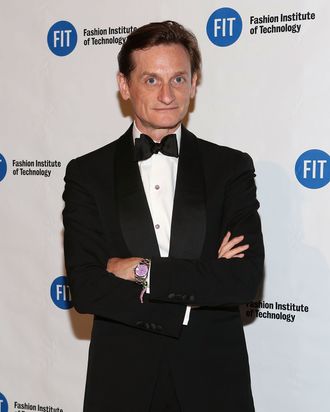 Photo: Robin Marchant/Getty Images
In her new role at international Vogue, Suzy Menkes is calling for an end to bitchiness in fashion criticism. But Vogue's Hamish Bowles, on the other hand, admitted that he misses the halcyon days of haters just a little bit. "I kind of miss the hatchet days of Mr. Fairchild at WWD, when they really took no prisoners and there was sort of outrageous favoritism and its inverse," Bowles told the Cut at last night's FIT Foundation Gala. 
"I enjoyed that a lot. But that needs to come from a very informed and authoritative place. We're obviously in a strange environment where practically anyone can set themselves up as a pundit of sorts. It's all about sorting the wheat from the chaff, and I'm very interested in reading different points of view, and certainly different generations than my own that have such a very different world view."
While Bowles agrees that there's always room for more niceties, he points out a little kvetching is just fine, too. "Naturally it is always entertaining to read the bitchery," he says. "But I've always relished that only in very, very tiny doses." Hear that, critics? Only very, very tiny doses of bitchery allowed.