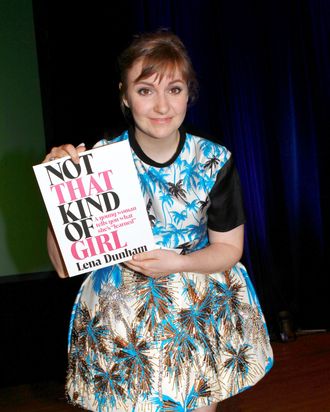 Photo: Steve Sands/Getty Images
At the Book Expo America at the Jacob Javits center, Lena Dunham spoke on a panel with Alan Cumming, Martin Short, and Cólm Toibín, leading with some trademark gusto: "What a great panel of guys," she said. "I feel so lucky. I fucked all of them, but I still feel empowered." After a big laugh, Dunham continued to attest that she remains loyal to Helen Gurley Brown, reminding everyone that her upcoming collection of essays is a "skewed" version of Gurley Brown's book Having It All. 
Dunham spoke about being in a moment of self-loathing in her early 20s, when she found the book in a thrift store, and devoured it in secret, pretending to value it ironically as a kitschy relic. And though she notes that lots of Gurley Brown's advice was "bananas," she credits it as an influence on people like Gloria Steinem and Nora Ephron. 
Dunham read from the introduction to Not That Kind of Girl, a small piece of which is below: 
And if I can take what I've learned to make one menial job easier for you, prevent you from having the kind of sex where you feel like you must keep your sneakers on in case you want to run away during the act, then every misstep of mine was worthwhile. I'm already predicting my future shame in thinking I had anything to offer you, but also my future glory in having stopped you from trying an expensive juice cleanse, or thinking that it was your fault when the person that you're dating suddenly backs away because they're intimidated by the clarity of your personal mission here on Earth.
Dunham will fulfill her own personal Helen Gurley Brown mission in September, when Not That Kind of Girl graces bookstores.