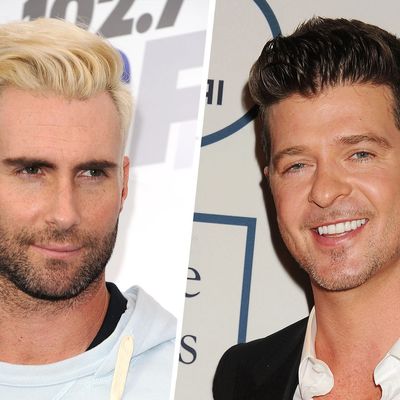 Photo: Jason LaVeris/Getty Images, Jeffrey Mayer/Getty Images
This week seems like it was a particularly rough time to be the ex of a white-guy R&B singer in his mid-30s: Both Robin Thicke and Adam Levine were pulling heavily from the Bad Ex-Boyfriend Playbook. Together, they offer an impressive demonstration of how breaking up should not work.

Thicke went with the Very Public Get-Her-Back campaign. In his case, this meant releasing a single called "Get Her Back." And, in case there was any confusion about whom he meant by "her"? Well, the album title, which he announced on Twitter, should clear things up: #Paula.
Thicke and Paula Patton separated earlier this year, and previously his reconciliation campaign had been limited to sad stage banter. This week signals a dark escalation. Like the very public marriage proposal, the Very Public Get-Her-Back campaign appears to be the height of romance — he's laying it all on the line for her! — but is in fact pure manipulation. It goads Patton into a conversation in which she must either acquiesce to his demand or disappoint the public, and makes her an involuntary part of his career for the foreseeable future. What would be an irritating gesture in a civilian relationship should practically be illegal among celebrities.

Meanwhile, Levine is reportedly deep in the Martyr's Mea Culpa. According to Us Weekly, Levine is "reaching out to some of his ex-girlfriends to make amends," like maybe model Nina Agdal, whom Levine informed of his engagement via text message. But breakups, if executed properly, don't require "amends." Just some respectful distance, followed by the low-maintenance, superficial friendship that comes with shared history. There are only two reasons to "make amends," both self-serving. The first is that you'd like to get back together. For Levine, this is off the table; Us reports the apology tour is preparation for his July wedding to Behati Prinsloo. ("He apologized for how he treated them," said Us's source.)

So this sounds like a textbook instance of the second selfish reason to "make amends": simple longing for the drama and emotion and the high-stakes attention that come with any relationship's demise. Consider it a funeral for Levine's bachelorhood, and the freedom to make himself the center of many women's attention (including ours). Although that may have been dead longer than he realizes: As of press time, his exes "couldn't care less he wants to make it right."
To both singers, I humbly suggest: Nothing says "I'm sorry" like leaving her alone.