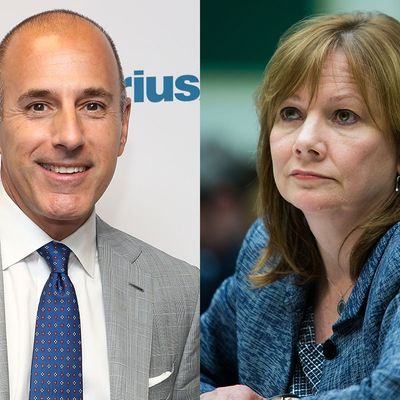 Mary Barra, the first female CEO of General Motors, submitted to a live interview with Today show anchor Matt Lauer yesterday. And there's no shortage of questions Barra ought to answer: GM waited a decade to recall cars with faulty ignition switches that are linked to the deaths 13 of people. But Lauer devoted much of the interview to asking Barra about being a woman and a mom. Was she hired for being a woman? Did her kids prevent her from doing her job?
I'm not opposed to asking women about gender. It's a fascinating line of questioning because it still, sadly, matters. But — like asking young female celebrities whether they're feminists — questions like Lauer's aren't really intended to start conversations. They're just ritualized acknowledgments of the double standards these women already face. Lauer said:
"I want to tread lightly here, but you've heard this—you heard it in Congress and you've heard it in the headlines: You got this job because you are hugely qualified, 30 years in this company, a variety of different jobs, but there are some people who are speculating that you also got this job as a woman and as a mom because people within General Motors knew this company was in for a very tough time and—as a woman and a mom—you could provide a softer face and softer image for this company as it goes through this horrible episode."
In doing so, Lauer held Barra accountable for two decisions she didn't make: being named CEO and being born a woman. Should qualified people turn down job offers because society finds them "softer" — a stereotype they did not ask for? And how will child-bearing women ever shed their softer image without doing things like running major automobile companies? "It's absolutely not true," Barra replied. "I believe I was selected for this job based on my qualification."
Next, Lauer asked how becoming a mom-CEO had affected her dual job performance.
"You're a mom, I mentioned—two kids," he said. "You said in an interview, not long ago, that your kids said they're going to hold you accountable for one job, and that is being a mom. Given the pressures of this job at General Motors, can you do both well?"
What did Lauer think she would say? No, I'm drowning, please call the board of directors and social services while you're at it. Predictably, Barra struck a bland note of strategically nonspecific self-assurance.
"I think I can. I have a great team, we're on the right path, we're doing the right things, we're taking accountability, and also I have a wonderful family, a supportive husband, and I'm pretty proud of my kids the way they're supporting me in this."
Again, I'm not saying Lauer shouldn't broach this totally relevant topic. But he might have gotten a more productive response by asking a question that didn't serve only to put her on the defensive. Off the top of my head:
Have you made any adjustments to your personal and professional life to juggle these two roles?
How could corporations make it easier for parents of any gender to balance these two equally important roles?
Does anything about the traditionally male C-suite culture make it hard for women, in particular, to do both jobs well?
Do your male colleagues with children do both jobs well?
Naturally, a lot of people hated this interview, and Lauer defended himself on Facebook by saying he was only referencing other interviews where Barra had discussed work-life balance. According to Businessweek, Lauer's post said:
"It's an issue almost any parent including myself can relate to If a man had publicly said something similar after accepting a high-level job, I would have asked him exactly the same thing."
It would be easier to swallow this if anyone ever made high-powered men, Lauer included, publicly speak about work-life balance. But as long as journalists can use other sexist interviews to rationalize perpetuating sexist media coverage, it's hard to imagine anything changing. So, business journalists, do your part: Ask a male CEO how he juggles board meetings and Little League games.